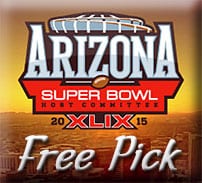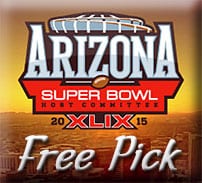 Overview
The New England Patriots and Seattle Seahawks meet down in Arizona Sunday for Super Bowl XLIX. These two teams don't have much head to head history, they have only played each other 3 times since 1993. The Patriots have won 2 of those 3 games but the Seahawks won the most recent meeting back in 2012.
Head to Head Trends
No recent head to head trends.
Seattle Seahawks (+1)
The Seattle Seahawks finished 1st in the NFC West with a 12-4 record which was also tied for the best record in the NFL this season with several other teams. The Seahawks actually had kind of a rough start to the season only winning 3 of their first 6 games but they just got better and better as the season went on winning 11 of their last 12 games including their 2 playoff wins. The Seahawks got a fairly solid offense averaging 376 yards and 24.6 points per game but their real strength is their defense allowing just 267 yards and 15.9 points per game both of which lead the league.
Seattle Seahawks Trends
Seahawks are 5-2 ATS in their last 7 playoff games.
Seahawks are 34-16-1 ATS in their last 51 games overall.
Seahawks are 19-7-1 ATS vs. a team with a winning record.
New England Patriots (-1)
The New England Patriots finished 1st in the AFC East and were also tied for the best record in the NFL at 12-4. Like the Seahawks the Patriots also had a fairly mediocre start going just 2-2 over their first 4 games but they also got hot and played better as the season went on winning 12 of their last 14 games including their playoff wins over the Ravens and Colts. The Patriots got a great offense averaging 365 yards and 29.2 points per game and they are also surprisingly good on defense allowing just 344 yards and 19.6 points per game.
New England Patriots Trends
Patriots are 9-3 ATS vs. a team with a winning record.
Patriots are 4-11 ATS in their last 15 playoff games.
Patriots are 0-4 ATS in their last 4 Superbowl games.
Conclusion
I'm going with the New England Patriots -1 over the Seahawks in this one. This game is going to be about the Patriots offense versus the Seahawks defense and I think if the Patriots can keep their turnovers to a minimum and not let the Seahawks defense dictate the game I think they win fairly easily. And as for the final score I'm going to say 23-16
Free Pick: New England Patriots -1