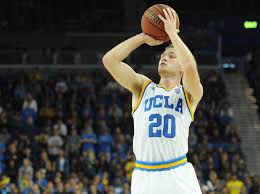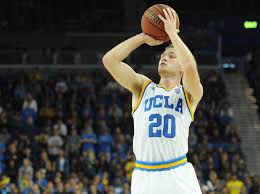 We have two Sunday Second Round March Madness free picks with one in the Midwest Region and the other in the South. The first game, which is in the Midwest, has #11 Rhode Island playing #3 Oregon. The second game, which is the final contest of round two, features #6 Cincinnati playing #3 UCLA.
The next round, known as the Sweet 16, will be held on Mar. 23 and 24. After that, there's the Elite Eight, which will be played out on Mar. 25 and 26. After that only four teams will be left. Here are our final two Sunday Second Round March Madness free picks.
#11 Rhode Island at #3 Oregon
7:10 PM TBS
Golden 1 Center, Sacramento, California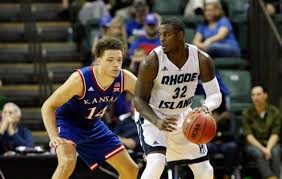 The #11 Rhode Island Rams surprised the #6 Creighton Bluejays 84-72. It was a stunning win as Rhode Island's Jeff Dowtin scored a career-high 23 points to lead the Rams to the second round. The #3 Oregon Ducks were without star Chris Boucher, who sat courtside in a knee brace, as they beat #14 Iona 93-77. Tyler Dorsey scored 24 points for the Ducks.
Rhode Island
In the paint, Hassan Martin is the man for the Rams. The 60% shooter is putting in 14.1 PPG. He's also averaging 2.5 BPG. Kuran Iverson is also one tough competitor, grabbing 7.4 RPG, scoring 9.6 PPG and notching 1.3 BPG. In the backcourt, E.C. Matthews leads Ram scorers with 14.9 PPG. Guard Jarvis Garrett and Jeff Dowtin offer assists and points.
Oregon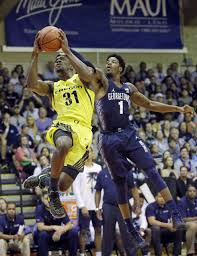 With Chris Boucher out, the Ducks are down to four players who hit for double-digits in scoring. Dillon Brooks tops all Oregon players, averaging 16.3 PPG. Jordan Bell leads the team in rebounds, bringing down 8.2 per game while averaging 10.9 PPG. Tyler Dorsey, who is averaging 13.6 PPG, is a 39% three-point shooter, while Brooks is hitting 41% of his tries.
The Rams are averaging 37 RPG and 74 PPG. While the Ducks are also good for 37 PPG, they're higher in point totals, averaging 79 PPG. Plus, Oregon is a good four percentage points better in every shooting category. We're taking the under on this game, which is at 144.5. We're going with the Ducks at -5.0.
Sunday Second Round March Madness Free Pick: Oregon at -5.0 and under 144.5
#6 Cincinnati at #3 UCLA
9:40 PM TBS
Golden 1 Center, Sacramento, California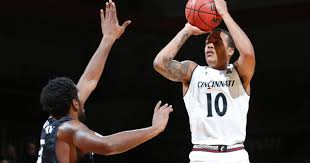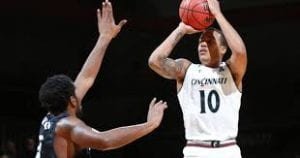 The #6 Cincinnati Bearcats took down the #11 Kansas State Wildcats 75-61. Troy Caupain hit for 23 points and Kyle Washington added 16 in the effort, giving the Bearcats the opportunity to meet UCLA in round two. The #3 UCLA Bruins beat the #14 Kent State Golden Flashes 97-80. The Bruins did not pull away until late in the game. In the winning effort, TJ Leaf was good for 23 points and Thomas Welsh had 16.
Cincinnati
The Bearcats have some impressive players in guard Jacob Evans, forward Kyle Washington, and forward Gary Clark. Evans and Washington are each good for 13 PPG. Evans is good on 42% of his threes. Washington, a 52% shooter, is also grabbing 6.8 RPG. Clark, who's hitting 53% of his shots, is good for 10.8 PPG and 7.9 RPG. Troy Caupin is a good setup man, notching 4.5 APG, 10.5 PPG, and 4.6 RPG.
UCLA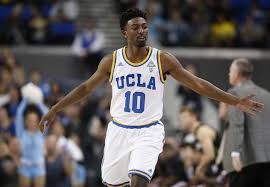 The Bruins have six players who are averaging double-digits in scoring, five who are hitting 50% or more of their shots, and four who are good on three at least 41% of the time. T.J. Leaf is scoring 16.4 PPG and averaging 8.3 RPG, while Tomas Welsh is averaging 10.8 PPG while bringing down 8.8 RPG. Bryce Alford, Lonzo Ball, and Isaac Hamilton are good for 16, 15, and 14 PPG respectively. This is a dynamite team and we expect them to show up to play.
The Bearcats are averaging 75 PPG and 37 RPG. The Bruins are good for 91 PPG and 39 RPG. They are also hitting 52% of their shots and 41% of the their threes. The Bruins are at -3.5 and the over/under is 153.5. We like UCLA and the over in this one.
Sunday Second Round March Madness Free Pick: UCLA at -3.5 and over 153.5
Sunday Second Round March Madness Free Picks
That's the last of our Sunday Second Round March Madness free picks. Remember to check our pages starting on Tuesday for our Sweet 16 free picks. We'll be choosing the point spread and over/under for each game. Plus, over the weekend, we'll do the same for the Elite Eight.