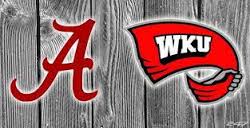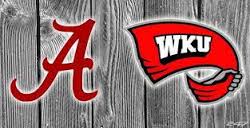 On Saturday afternoon in Alabama at the Bryant-Denny Stadium two undefeated teams will meet at 3:30 p.m. In this free college football pick Western Kentucky plays Alabama in a game where we expect the Hilltoppers to be topped by the number one ranked Crimson Tide. Although Western Kentucky won its opening game easily, defeating Rice 46-14, this meeting with Alabama will be a test that will certainly challenge them in a major way.
Kentucky Offense vs. Crimson Tide D
Junior quarterback Mike White leads the Hilltoppers' offense. In the game against Rice, White completed 85.6% of his passes for an average gain of 16.68 yards and three touchdowns. His primary target, with five catches was Taywan Taylor. Taylor averaged 33.0 YPC while overall he accumulated 165 yards. Nicholas Harris had seven catches for 147 yards and two scores. Running back Anthony Wales carried the ball 15 times against Rice, averaging 3.9 YPA, scoring two touchdowns, and gaining a total of 58 yards. The Western Kentucky O-line did a good job of opening routes and protecting their quarterback.
But the Hilltoppers were playing Rice and not Alabama. Although they lost some key players from last season to the NFL Draft, the Crimson Tide defense is still fast, big, and scary. Against a promising USC team they notched three sacks, took down one interception, and allowed just six points. USC rushers averaged 2.1 YPC against them and ran for a total of 64 yards. USC passing averaged 3.5 YPA. Expect more of the same here. This could very well be a shutout.
Alabama Offense vs. Hilltoppers Defense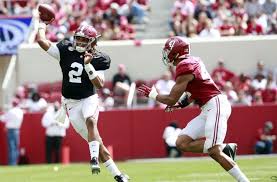 The Crimson Tide offense generated 52 points against USC. In doing so, they utilized two frosh QBs, Jalen Hurts (6/11, 118 YDs, 10.7. AVG, 2 TDs, 1 INT) and Blake Barnett (5/6, 100 YDs, 16.7 AVG, 1 TD, 0 INT). Both performed well and you can expect to see both play again today. Alabama had six receivers who caught one or more passes with the top pass catcher being ArDarius Stewart (4 REC, 113 YDs, 28.3 AVG, 2 TDs). His longest catch was good for 71 yards. Damien Harris anchored the Alabama ground attack, gaining 138 yards on nine carries for 15.3 YPA. QB Hurts scored two rushing TDs.
In the Rice game, the Hilltoppers defense allowed two TDs, while brining in two interceptions. But they did not have a sack, and although they controlled Rice when it came to the red zone, Rice pass catchers had a total of 186 yards while their runners gained 105. Those aren't great totals against this defense, but you've got to wonder what the Hilltoppers can do against a much bigger, faster, and deeper Alabama squad.
Free College Football Pick Western Kentucky Plays Alabama
In our free college football pick Western Kentucky plays Alabama sees the Crimson Tide dominating this game. The Tide will score as many points as possible. They have to in order to leave no doubt as to their number one standing. Still we think the over/under, which is now at 63.0, is high. So take the under. Also take the SEC's Crimson Tide at -27.5 against the Conference USA Western Kentucky.
Free College Football Pick Western Kentucky Plays Alabama: Alabama Crimson Tide at -27.5 and the under at 63.0