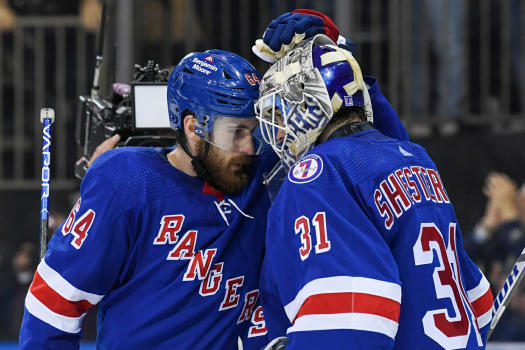 Tampa Bay will try to avoid falling in the same hole that Edmonton is in as they get set to host the Rangers at Lightning game 3 betting matchup. The Oilers were down 0-2 but still had hopes heading back home only to fall 4-2 Saturday night as Colorado is on the verge of a sweep.
The Lightning have lost both games in New York, but can still salvage the series with a win on Sunday. Tampa Bay is 31-9-6 at Amalie Arena this year including 4-1 in the playoffs. The Rangers like where they are at though, defending their home ice in Games 1 and 2 even against the 2X defending Stanley Cup champions. Tampa Bay is a lofty -179 favorite on Sunday afternoon.
No Love for New York?
The Rangers took care of business at Madison Square Garden, winning 6-2 in Game 1 as +114 underdogs and claiming the victory on Friday night 3-2 as +115 underdogs. That underdog numbers jumps all the way up to +155 in the Rangers at Lightning game 3 betting matchup as the series shifts back to Florida.
This series is billed as a showdown between the two greatest goaltenders in the world, and New York's Igor Shesterkin has held up his end of the bargain. shutting Tampa Bay out for the final period-and-a-half in game 1 and giving up just one score over the final 57 minutes of game 2 to hold on for the win and the 2-0 series lead.
Shesterkin had just one career playoff appearance before the 2022 postseason, but you have to give the Rangers offense credit for putting up 9 goals so far against a guy who is closing in on 100 career playoff games. Filip Chytil scored back-to-back times in game 1 when things were knotted up 2-2, and Mika Zibanejad's second goal of the series ended up being the game winner on Friday.
Must Win for Tampa Bay
The Lightning have to realize that a playoff series doesn't start until the home team loses, and not get down and put yourself in an insurmountable hole like Edmonton did with Saturday night's loss. If any team can put things in perspective it's Tampa Bay who has been in all sorts of these situations over their Stanley Cup Finals runs the last two years.
Tampa Bay did have over a week off prior to game 1 which could explain their rusty play, but the 3-2 defeat on Friday has to be at least a bit concerning. Perhaps on the road in front of a raucous crowd is where Shesterkin's playoff inexperience comes to haunt him?
Andrei Vasilevskiy hasn't been his usual sharp self this series, having a 4.60 GAA and just an .855 save percentage. His regular season numbers were 2.49 and .916 respectively.
Free Rangers at Lightning Game 3 Betting Pick
Even back at home there's not a ton of value on Tampa Bay -179 in this spot after already costing bettors at -124 and -125 this series. It's possible the Rangers just have TB's number, as they are 5-0 against them this season, posting a 19-8 scoring advantage which includes 13-3 in 5-on-5 play.
The big question is if Shesterkin's stellar play can travel? Vasilevskiy should be better back in the comfort of Amalie Arena, and this looks like another 3-2 finish.
Pick: Under 5.5