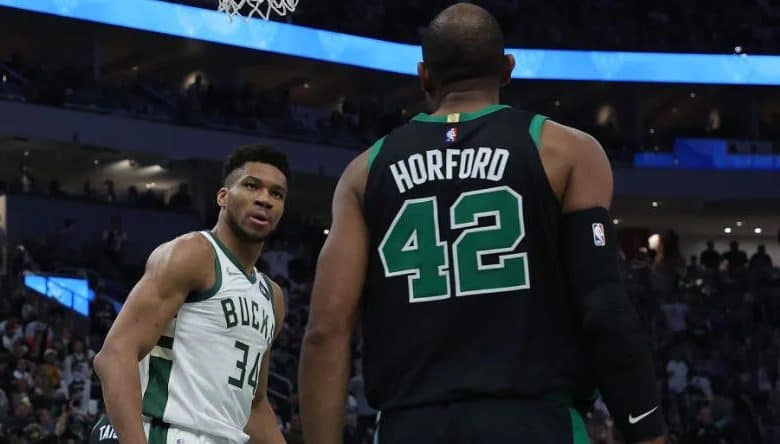 A very evenly matched Eastern Conference Semifinals matchup continues on Wednesday in the May 11th Bucks at Celtics Game 5 betting contest. We head back to TD Garden tied up 2-2 with the teams alternating wins and losses so far through the first four games. That would leave Milwaukee due for a win since Boston picked up the 116-108 victory on Monday night.
The Celtics are up to a -5.5 favorite for Game 5 back at home, where they were -5 and -4 in the first two meetings of the series. With every game in this series seemingly a coin flip, the Bucks +5.5 looks like the lean and 60% of the betting public agree. Boston did win by 23 in Game 2 at TD Garden however so this one could get interesting.
Bucks Try to Find the Formula
Milwaukee took home court advantage with their 101-89 victory in the series opener in Boston as +5 point underdogs. Giannis Antetokounmpo had a well rounded performance in that game with 24 points, 13 rebounds, and 12 assists but the Bucks also got a huge contribution from Jrue Holiday who went for 25 points.
Antetokounmpo has been great in every game this series, adding 28/9/7 in Game 2 and then averaging 38/14/6.5 in the two tilts back at home. Even though the former MVP has been highly productive, Milwaukee is still just 2-2 in the series. That goes to show that the Bucks go just how the rest of their lineup does.
With Khris Middleton continuing to be out with a knee strain, Holiday has been the most likely candidate to step up and take the pressure off of Antetokounmpo. Holiday had 25 again in the Game 3 win, but is averaging 17.5 in the Bucks' two losses this series. Boston's #1 rated defensive efficiency is honing in on Antetokounmpo and Holiday, so Milwaukee needs somebody like Bobby Portis to step up like he did in Game 1 with 15 points and 11 rebounds.
Boston Tries to Defend Home Court
This series shifts back to 1-1-1 for the next three games so the Celtics don't want to go down 3-2 heading back to Milwaukee in a possible elimination game. Boston has ripped back home court advantage thanks to their 116-18 win on Monday that was fueled by a retro game from Al Horford who had 30 points.
Antetokounmpo agitated Horford in the 3rd quarter in Game 4, and the veteran did not like it responding with an 11-14 shooting night including 5-7 from three point range. That's a great road performance, but Horford was also only playing 42 minutes out of necessity after Robert Williams was sidelined prior to the game with knee soreness. Boston would love to have Williams back in the lineup for the Bucks at Celtics Game 5 betting matchup.
Aside from Horford's big game, Jayson Tatum also added 30 points and 13 rebounds. Tatum had his worst performance of the playoffs with just 10 points in Game 3, but looks to be back on track. Jaylen Brown also has a 30-point performance in Game 2 in Boston.
Free Bucks at Celtics Game 5 Betting Pick
Do the Celtics run away with this one like they did in Game 2 back at home or does Milwaukee keep the flip-flop of wins and losses streak alive as they are due? This series seems like it's  headed towards 7 games, and the plan will be for both teams to win at home before setting up the elimination contest. The only question is if the Celtics will win by enough?
Free Pick: Celtics -5.5