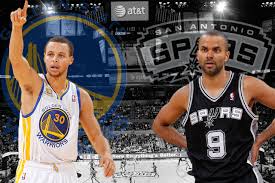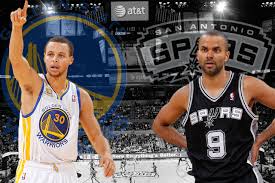 The San Antonio Spurs come to this best of seven NBA Western Conference Finals game and series the underdog. No one is picking this team to win the series and almost everyone is indicating that they expect the Spurs to win just one game. This series tips off today at 3:30 p.m. E.T. For our Spurs play Warriors NBA West Finals game one pick with the Golden State Warriors favored by 10 points and the over/under at 209.
In the regular season, the second-seeded Spurs were good against the first-seeded Warriors in two of three games this season. The team that won each of those three games was the one that had more success from beyond the arc. In the first two games, which were both won by the Spurs, they limited the Warriors to completing 12-of-50 when shooting three-pointers (24.0 percent). In the third game, Golden State went 13 of 26 (50.0 percent) from downtown, notching that victory.
Important Players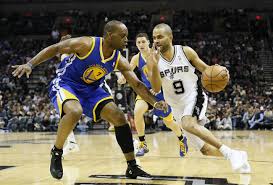 Without a doubt for the Spurs to have a chance in this game they need stellar performances from SF Kawhi Leonard and PF LaMarcus Aldridge. Each player is averaging eight rebounds per game while Leonard is putting in 27.8 PPG in the playoffs and Aldridge 16.8 PPG. Patty Mills, who has seen his minutes go up since Tony Parker was injured and eliminated from postseason play, has done well at shooting guard. He's averaging 11.2 PPG but his two-point and three-point completion percentages are nowhere near Parker's. Center Pau Gasol will need to score and rebound beyond his playoff averages of 7.1 PPG and 7.1 RPG.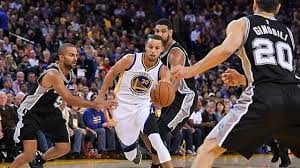 PG Stephen Curry, SF Kevin Durant, SG Klay Thompson, and PF Draymond Green are all top three-point shooters with their combined averages coming in at .427. Curry has been good for an average of 27.1 PPG in the playoffs and Durant for 23.3 PPG. Green leads the team on assists with 7.3 per game while Curry is second with 6.0. Ball movement will be key for the Warriors, as they need to make sure that they make clean setups and reduce the effectiveness of the Spur defense. Durant and Green can dominate the boards. Durant is averaging 8.2 RPG and Green 9.1.
Five Keys to the Game
Team with best outside game will win
Golden State comes to the floor rested and healthier
Warrior success at foul line is five percentage points better
Battle for rebounds will be close
Home court goes to Golden State (36-5)
Spurs Play Warriors NBA West Finals Game One Pick
In this game, we're going with Golden State. They're rested and have the better offense. Plus, their defensive chops are a tad better and they are playing at home, which always offers this team an advantage. Our Spurs play Warriors NBA West Finals game one pick is the Warriors at -10. We also like the over at 209 points.
Spurs Play Warriors NBA West Finals Game One Pick: Warriors at -10 and over 209