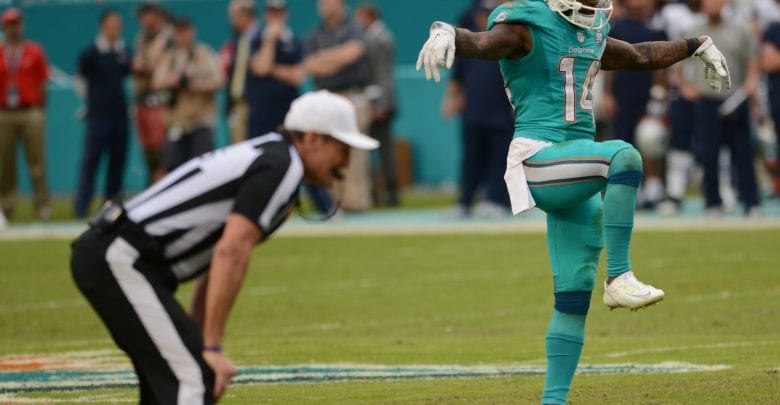 With Halloween on the horizon, folks who love offense may find the NFL week 8 Thursday night over under pick downright spooky. We've got the Miami Dolphins coming to town with a backup QB facing a Ravens team who spends more time in the physicians office than a hypochondriac with free government health care.
If you thought Dodgers fans tuned out early of a game, what is the ratings book going to look like in this inevitable 13-6 affair? But wait, is that what the spread makers want you to think? They've already set the line at a TNF season low of 37.5 (Houston beat Cincinnati 13-9 in week two with a total of 38.5) – but is the 'over' justifiable whatsoever?
Dolphins/Ravens tonight: 31st Offense vs 32nd offense. So of course… final score will be 41-38 tonight

— trey wingo (@wingoz) October 26, 2017
What to Expect In Terms of 'over' 37.5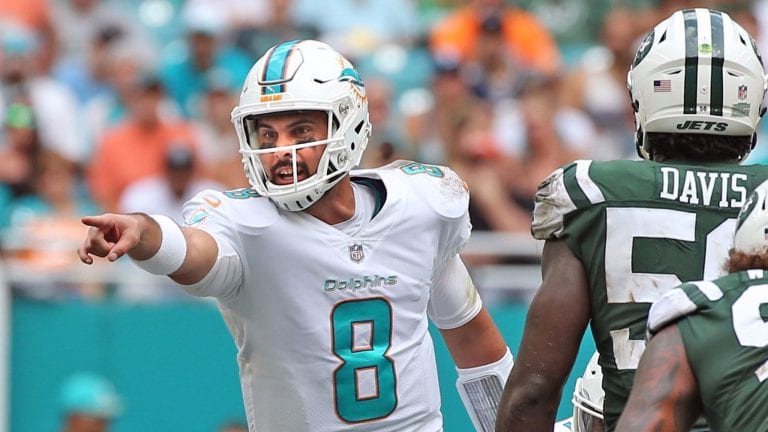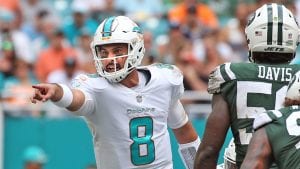 Granted, Miami goes on the road in a short week with their backup QB Matt Moore getting the start – but is that such a bad thing? Moore led the Dolphins offense to 17 fourth quarter points last week to upend the Jets 31-28. Moore threw for 188 yards and 2TD in a quarter-plus of work whereas the incumbent Jay Cutler hadn't amassed over 165 yards passing in any game the last four weeks.
It could actually be RB Jay Ajayi's time to shine against a Baltimore defense that is #32 in the league in rush defense (145.3). Baltimore can hold up their end of the scoring bargain in the NFL Week 8 Thursday Night Over Under Pick too as the 'over' has hit in four of their last five games.
I think the offense gonna have a good night tonight. Matt Moore brings another energy

— Romey Rome ♍???? (@Romey_Da_Homie) October 26, 2017
Let's Get Serious – How Do These Teams Score As the 'under' Hits?

Breaking it down, how much can you really trust a Miami offense behind Matt Moore, who is making just his fourth start in the last six years – and under the lights of a Thursday night game. Regardless of who is under center, this is a Dolphins squad that is last in total yards, 30th in passing, 29th in rushing, and 31st in points scored. Miami has scored 20 points or less in six of seven games this year but also in a nod towards the 'under' feature a defense that is top 10 in total yards against and 5th against the run.
One other thing that 'under' bettors are looking a on Thursday is Baltimore…as a whole. For starters, they have 13 players as questionable or doubtful including the top three offensive threats in Mike Wallace, Breshad Perriman, and Jeremy Maclin. Even when those players were healthy, the Ravens offense ranks 31st in total yards, dead last in passing yards, and 23rd in points scored. Baltimore has scored 16 points or less in three of their past five.
So excited for the entire nation to suffer alongside me tonight as we gather to watch the Ravens' offense.

— lindsey ok (@lindseyyok) October 26, 2017
NFL Week 8 Thursday Night Over Under Pick – Betting
So to reiterate, tonight's matchup pits the #32 total offense against the #31 total offense, the #30 passing attack against the #32 passing offense, #31 in points scored against #23 in points scored. The only question to ask after seeing that is, "What time is Grey's Anatomy on?"
The 'under' may be the easy play in the NFL week 8 Thursday Night Over Under Pick, but it's also the smart one. Miami was out East last week playing the Jets while the Ravens had a tough fought 16-24 loss to a very physical Vikings team. Tonight, both squads are tired, and Baltimore has what amounts to a practice squad on the field tonight. Don't expect to get 'wowed' out of your socks, folks.
Pick: Miami Dolphins / Baltimore Ravens *Under 37.5