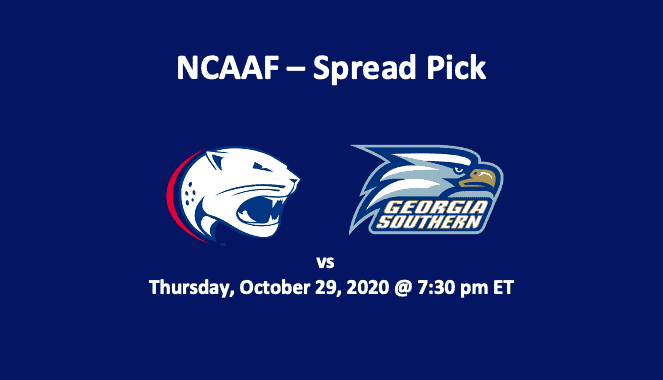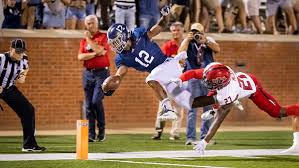 Our South Alabama vs Georgia Southern pick has the Eagles favored by 4.5 points and at -109. The underdog Jaguars are listed at +4.5 (-110). USA comes to this game having won three of their last five, including their last two contests. They last played on October 24, beating the University of Louisiana Monroe 38-14. The Eagles, who lost their last game 28-14 to Coastal Carolina, have also won three of their past five contests.
South Alabama is first in the Sun Belt West with a conference record of 2-0. They are 3-2 overall. With a 1-2 Sun Belt mark, the Eagles sit in fourth-place in the East Division. Overall, Georgia Southern is also 3-2. The game will be played on Thursday, October 29 at 7:30 pm ET. These two teams will face one another at Allen E. Paulson Stadium in Statesboro GA.
South Alabama vs Georgia Southern Pick – Stats and Players
This game features the passing offense of South Alabama and the rush attack of Georgia Southern. The Jags can strike quickly. However, they must contend with a sound Eagle secondary. GSU can grind it out on offense. Their D possesses some solid players who can thwart pass attacks.
USA Offense vs GSU Defense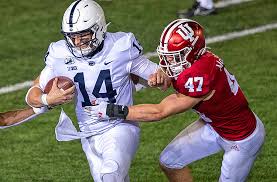 The Jags bring a potent pass attack to this game. South Alabama is averaging 272.2 air yards per game. Compare those passing yards to those of Georgia Southern, and you get a stark contrast as the Eagles have averaged 114.4 passing yards per game. Visiting USA is putting up 26.8 PPG. The team uses two QBs, Desmond Trotter and Chance Lovertich. Both are solid but Trotter has the more accurate arm. The two top wideouts, Jalen Tolbert and Kawaan Baker, have 26 and 27 catches and four and six TD receptions respectively. The Jags will face a tough Eagle D that's allowing 20.8 PPG. GSU has a solid pass rush (7.0 Sacks) and good secondary (5 INTs, 15 PD).
Eagles Offense vs Jaguars Defense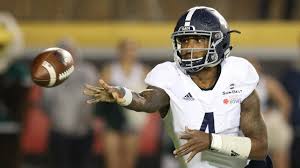 Georgia Southern is averaging 27.0 PPG, while USA is allowing 24.8 PPG. The Eagle offense relies on their rush attack, which is averaging 248.8 YPG. QB Shari Werts, who's tossed five TD passes and three picks, is averaging 5.6 YPA. He's scored two rushing TDs. RB J.D. King is the team's top rusher having totaled 490 yards on 87 carries. He's crossed the goal line four times.
The Jaguar defense brings a good pass rush, but their secondary is weak. One area where they excel is in forced fumbles. South Alabama has forced six fumbles and recovered three. The Eagles will have to be extra careful when rushing the ball in this one.
South Alabama vs Georgia Southern Pick – Final Word
Our South Alabama vs Georgia Southern pick does like the Eagles at -4.5. Their ground game is tough to stop, and they bring a good enough pass attack to keep opponents off balance. Plus, the Jag D is vulnerable. USA has a good passing game and two skilled quarterbacks. If their defense can manufacture a few takeaways, they will stay in the game. However, in the end, we see the Eagles breaking away and winning by about 10 points. For our latest NFL pick, see our over/under on this Thursday's Falcons vs Panthers contest.
South Alabama Jaguars vs Georgia Southern Eagles Summary
Georgia Southern Eagles at -4.5 (-109)