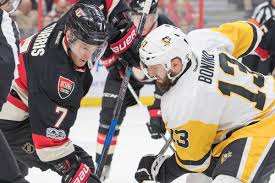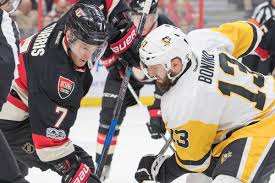 Perhaps the Ottawa Senators surprised everyone the other night when they won game one in OT 2-1 except the Ottawa Senators. The Senators have played well during the playoffs and have done a good job surprising their opponents and many sports bettors. Tonight's game two, which will face off in Pittsburgh at 8 p.m., will be a lot tougher on Ottawa. Pittsburgh will be ready for the Senators and they will want to retaliate against the visiting team and even the series. Our Senators play Penguins NHL game two East Finals free pick has Pittsburgh at -201 and Ottawa at +180. The over/under sits at 5.0 goals with the over at -141 and the under at +128.
Ottawa Senators and Pittsburgh Penguins Game One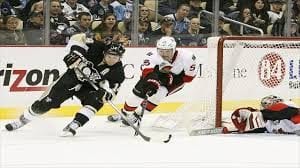 The initial game in this series was a battle to say the least. It was also a slow game, as the Ottawa trap defense was enforced throughout. That trap stopped a lot of Penguin drives while the Senators outshot the Penguins 33-27. The Senators won in OT for the sixth time in the 2017 NHL Playoffs. In regulation time, the Senators controlled the puck 60% of the time. That slowed the game down a lot.
The initial goal, which was scored by Ottawa, came on a beautiful pass from Bobby Ryan that set up a first-period goal by Jean-Gabriel Pageau, who scored his eighth of the playoffs. Center Evgeni Malkin's deflection on a Chris Kunitz shot tied the game late in the third. Then in OT Ryan took a breakaway in for the winning goal.
Ottawa at Pittsburgh Game Two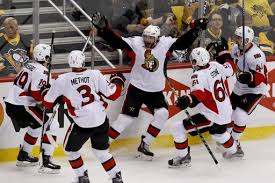 The Senators need goaltender Craig Anderson to have a stellar game. Plus, they will look to slow down the Penguin offense once again. Anderson brings a 9-4 record to the series. His save percentage stands at .914 and goals against average is 2.49. D-man Eric Karlsson will battle the Penguins all night long. Pageau leads the club in goals with eight. He had an important one the other night and could score another tonight. Of course RW Ryan and center Derick Brassard are both major factors.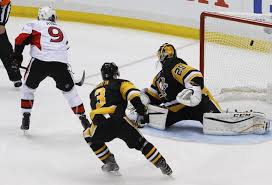 The Penguins may have led the NHL in average goals scored, but they did not look capable of doing such the other night. They need to get their third-ranked power play churning. Penguin centers have been the point makers. Evgeni Malkin (5 G, 13 A), Sidney Crosby (4 G, 10 A), and Jake Guentzel (9 G, 5 A) will need to come through tonight. Winger, Phil Kessel, who has has four power play goals thus far, and defenseman Justin Schultzm, with four power play assists, could be major factors tonight. Goalie Marc-Andre Fleury has an 8-5 playoff record. He's giving up 2.66 goals per game and has a .927 SV%. Fleury played well in the Penguin 2-1 loss the other night.
Senators Play Penguins NHL Game Two East Finals Free Pick
We think that the Penguins will rev it up tonight and post a win. We're also looking to see a lot more goals scored tonight than there were in the first game. Our Senators play Penguins NHL game two East Finals free pick is the Penguins at -201 and over 5 at -141
Senators Play Penguins NHL Game Two East Finals Free Pick: Penguins at -201 and over 5 at -141