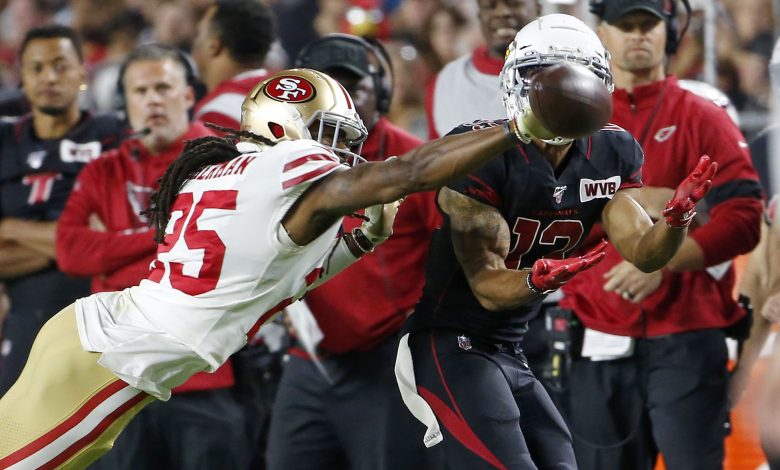 The battle for the NFC West still has a long way to go before being officially decided, but it could be all but decided on Monday night when the Seattle Seahawks travel to face the San Francisco 49ers. San Francisco is currently 8-0 on the season and on top of the NFC West standings, with Seattle coming into the game at 7-2, 1.5 games behind the 49ers.
A Seattle loss would put them 2.5 games back, including three in the loss column, and make it very difficult for them to catch the 49ers. San Francisco visits Seattle in Week 17 in the final game of the regular season for both teams, but it may be too late for the Seahawks by then. Seattle can be heartened by the fact that San Francisco still has games with division leaders Green Bay, Baltimore and New Orleans — in three consecutive weeks — on its schedule.
The moneyline for this contest has the Seattle Seahawks +225 and the San Francisco 49ers -265. San Francisco is favored by 6.5 points at home, with the over/under for this game being set at 47.5.
Magician With The Ball
Russell Wilson has been one of the NFL's top quarterbacks for a while, but he seems to have gone to another level with his play this season. Coming into this contest, the 30-year-old has thrown for 2,505 yards and an NFL-high 22 touchdowns with just one interception. The biggest problem with Wilson's play is he's been sacked 22 times this season, and he'll be going against one of the most ferocious pass rushes in the league on Monday.
There is one defensive area that the Seahawks have been better than the 49ers at, and that's rush defense. To be fair, Seattle is allowing 102.7 yards per game, while San Francisco is right behind at `102.9 per game. Still, the Seahawks will be looking to shut down the 49ers' running game and make Jimmy Garoppolo beat them. Linebacker Bobby Wagner continues to be one of the most active defenders in the league, ranking third in the NFL with 86 tackles to go with two sacks and a forced fumble.
Continuing To Surprise
San Francisco seems to like to keep us guessing, from blowing out teams that many believe will give it trouble to playing close games against teams it should dominate. So what does that mean for this one? Good question. Garoppolo will certainly need to step up his game in a battle with Wilson, and he could have a good shot at some big numbers, considering Atlanta backup Matt Schaub threw for 460 on Seattle two weeks ago. Look for him to try to get Emmanuel Sanders going early, as the receiver acquired from Denver before the trade deadline has scored a touchdown in each of his two games for the 49ers.
The 49ers defense took a bit of a hit when linebacker Kwon Alexander was lost for the season with a torn left pectoral muscle. Though he didn't have great stats (34 tackles, one forced fumble, one interception), Alexander was considered the heart of this defense. Rookie defensive end Nick Bosa (seven sacks, 11.5 tackles for loss) has been dominant in recent weeks for the 49ers, but he'll have his work cut out for him trying to catch up to the elusive Wilson. Switching sides of this rivalry, Richard Sherman will certainly make his presence felt against his former teammates with either his play or his mouth, or both.
Worth Waiting For
This matchup is the final one of Week 10, but it's definitely the cherry on the top of the weekend. These two teams had a bitter rivalry midway through this decade, and it looks like it could be starting up yet again. A win for San Francisco not only puts them farther out front in the NFC West, but it would also put them up by at least two games on the entire conference with the Saints losing on Sunday. Seattle wants to push its way closer to the top in both the division and conference, and I see them keeping this one close, win or lose. I'm taking the Seahawks +6.5 in this game.