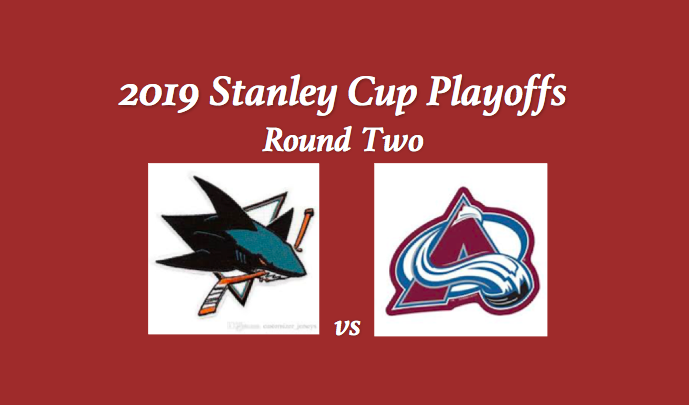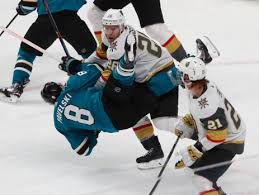 Or San Jose Sharks vs Colorado Avalanche preview notes that the Sharks are the highest remaining seed in the West. The San Jose Sharks dispatched the Vegas Golden Knights in seven games to move into this second-round matchup. As far as Colorado is concerned, the Avanche pulled off an upset in round one by defeating the number one seed in the Western Conference, the Calgary Flames. This San Jose Sharks vs Colorado Avalanche preview and pick sees both clubs' offensive potential as a deciding factor in this matchup. Plus, recent goaltending performances could also offer insights into the result of this second-round series..
San Jose Sharks vs Colorado Avalanche Preview – Goaltending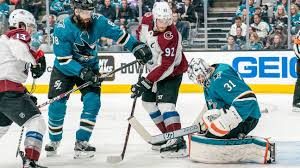 The Sharks' Martin Jones had a shaky start to the playoffs. Jones maintained a .904 save percentage and a 3.20 GAA. Still, he settled in for the rest of the series. In game five, he stopped 30 of 32 shots. He then stole game six, making 58 saves in a 2-1 overtime win. Jones has looked sound recently, but, in the net, the Sharks will need a very high standard of play against a high-scoring Avalanche team. Jones faced the Avs three times this season, allowing nine goals in total and stopping .900 percent of their shots.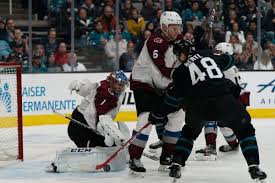 Philipp Grubauer was a question mark going into the playoffs. In his only prior career playoff appearance, he had been abysmal. Colorado got a very solid performance out of the German netminder though. At this point in the playoffs, he owns a .939 save percentage. Despite this there are still question marks for this upcoming series. He played once against San Jose this year and was pulled after allowing four goals on 14 shots. Grubauer will need to prove once again that he is capable of playing solid Stanley Cup hockey against a high-powered Sharks offence.
Can the Avs stop San Jose's Momentum?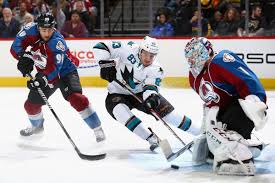 San Jose's season looked to be in jeopardy following a 5-0 loss in game four. After being down three games to one, they rattled off three straight wins to knock out the Vegas Golden Knights. In game seven, they play at a high level. Trailing three to nothing in the third, San Jose was given a controversial five-minute powerplay. They capitalized four times to take the lead.
One key loss for the Sharks will be Joe Pavelski. He is expected to miss the start of the series. Pavelski had two goals and two assists during the first round, and his absence will force some line changes. Logan Couture and Tomas Hertl will likely center the top two lines. Both had six goals and two assists against Vegas. Kevin Labanc (2-3-5), Joe Thornton (1-3-4), and Evander Kane (1-3-4) will look to step up with Pavelski out. On the backend, both Erik Karlsson and Brent Burns will need to drive the offense. Karlsson led the team in points in the first-round while Burns did so in the regular season. They played 27:15 and 30:28 minutes a night during round one and will be on the ice for major minutes again against Colorado.
Colorado's First Round Dominance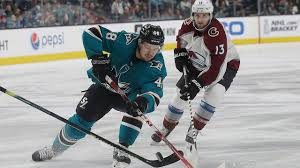 The Avs controlled play during most of their series against Calgary. They outscored the Flames 17 to 11 and the goal differential could have been much higher if Mike Smith was not on his game. Their top line of Nathan Mackinnon, Gabriel Landeskog, and Mikko Rantanen was among the best in the NHL all season long and were great in round one. Rantanen led the team with five goals and nine points against the Flames. MacKinnon and Landeskog had eight and four points respectively. When they were on the ice, this line carried play. If Martin Jones has any struggles at all this round, these three players could put up massive numbers.
On Defense Tyson Barrie and Ian Cole had great first rounds. Barrie had five assists while playing 25:06 minutes per night. Cole finished with three assists and a +4 plus-minus rating. Erik Johnson and Samuel Girard will also be called upon to slow down the Sharks' deep offence.
San Jose Sharks vs Colorado Avalanche Preview: Summary
Both the Sharks and the Avs have high powered offences that could go off in the second round. Aside from that, both starting netminders have some questions entering round two. Jones was great for the second half of the first round, but was absolutely brutal in games one through four. Grubauer played well against Calgary, but was a mess in his only appearance against San Jose earlier this season. We see this series being high scoring. While Colorado's top line is lethal, we like the Sharks' depth up front along with the offensive potential of Burns and Karlsson. Plus, out San Jose Sharks vs Colorado Avalanche preview and pick notes that along with these factors, the team is coming off of an emotional game seven win, and have a ton of momentum going into this series.
San Jose Sharks vs Colorado Avalanche Preview: Prediction
San Jose Sharks over the Colorado Avalanche in 6 games.