The Yankees kept it close last night but were never able to crack Houston's Dallas Keuchel as the Astros secured a hard fought game one win 2-1. There's a quick turnaround with a 4:05 ET first pitch and on paper the 2017 ALCS Game 2 prediction looks like another pitching duel as New York sends Luis Severino to the hill to take on Houston's Justin Verlander.
New York had quality pitching too last night. Masahiro Tanaka allowed just four hits through 6.0 innings but Houston was able to manufacture two runs in the fourth inning which would prove to be all they needed. This is mostly because Keuchel continued his mastery of the Yankees, allowing only four hits through 7.0 IP while striking out 10.
Can New York Get One On the Road Behind Severino?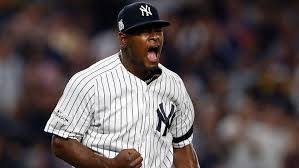 Yankees manager Joe Girardi is looking for a big present from starter Luis Severino as the skipper celebrates his 53rd birthday Saturday. Severino seems to have calmed down from the nerves he showed in the AL wild card game where he was yanked after 0.1 IP after giving up 3R on 4H. Severino was much better in the ALDS where he was able to go 7 innings allowing just 4 hits while striking out 9 Cleveland batters.
Houston has absolutely rocked Severino this season in his two starts against the team. Severino had his shortest outing of the year prior to the Wild Card game start when Houston set him to the showers after 2.1 IP, scoring 3R on 6H on May 14th. It wasn't much better on July 2nd when the Astros scored 6R on 9H forcing Girardi to pull his pitcher after 5.1 IP. Houston has a .354 average against the right-hander but surprisingly Jose Altuve is only 1-6 in his career. Altuve has been scorched Earth this whole postseason (11-19, .579) and added three more hits last night.
Wishing a very happy birthday to Joe Girardi, who turns 53 today!

— Yankees PR Dept. (@YankeesPR) October 14, 2017
Verlander Has Been Here Before
Everybody has heard about how Justin Verlander won all five of his starts with Houston after being acquired in a trade seconds before the waiver wire trade deadline passed. His 1.06 ERA over that span was a sign of his dominance. That being said, he was good in the ALDS against the Red Sox – but not great. Verlander allowed two runs on six hits in his game one start against Boston but was rattled for a 2-run HR coming out of the bullpen in game four. The 2017 ALCS Game 2 prediction depends a lot on how Verlander pitches in front of the home crowd.
The Yankees missed Verlander (well, not missed him personally but missed playing against him) this season and only 7 "baby Bombers" have hit against them in their careers. Only Todd Frazier has batted against Verlander more than seven times (4-14, .286) but both Brett Gardner (4-7, .571) and Didi Gregorious (2-5, .400) have had success and have taken the former Cy Young winner deep.
2017 ALCS Game 2 Prediction – Betting
I love how Jose Altuve basically told the umpire he was safe. Because this is Altuve's world and we are just living in it.

— Jessica Kleinschmidt (@KleinschmidtJD) October 14, 2017
Houston and Verlander opened as -135 favorites but that has been pushed down to -123. Bettors are on Houston to the tune of 67% but that could have a lot to do with the public money that New York always seems to bring in. Severino was better in the ALDS, but is he prone to get fidgety again in a fight for the pennant? It's important to remember his success against Cleveland came at home too – the rowdy afternoon Houston crowd is a different animal. When you couple the fact that Houston has hit the Yankees starter well – and that "Babe Ruth" Altuve simply can't be stopped right now, you start to like the home team more and more.
Pick: Houston Astros -121