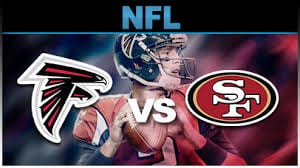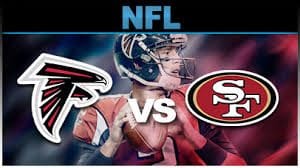 In the late afternoon, the NFL offers some games that look like good bets. We feel like our San Francisco 49ers play Atlanta Falcons free pick is one such wager. San Francisco is dead last in the league while the Falcons are topping the NFC South. This is a big game for Atlanta due to the fact that they're in a virtual tie with the Tampa Bay Buccaneers. The Bucs play Dallas later tonight on Sunday Night Football.
The 49ers have not won a game since week one of the season. Their most recent loss was in OT to the New York Jets. The final was 23-17. The week before they lost to the Chicago Bears 26-6.
The Falcons have gone 3-2 over their last five games. On Nov. 3, they beat Tampa Bay 43-28. They then lost the next week to the Eagles 24-15, and then the following week, the Falcons came back and beat Arizona 38-19. On Dec. 4, they lost a close game to the Chiefs 29-28. Last week, they recovered by beating the Rams 42-14.
San Francisco Offense vs. Falcons Defense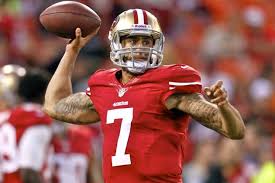 It looks like Colin Kaepernick (54.8 COMP%, 11 TDS, 3 INTs, 25 Sacks) will get the start in this one. He leads an offense that is averaging merely 19.3 PPG and only 192.5 of those yards are in the air. Their rushing game is good for 136.9 YPG on ground. RB Carlos Hyde (191 ATT, 879 YDs, 4.6 AVG, 6 TDs) leads the ground game. Wideout Jeremy Kerley (48 REC, 516 YDs, 10.8 AVG, 3 TDs) leads all 49ers' receivers.
The Atlanta D is allowing opponents 26.5 PPG. Of the total 390.6 yards allowed, 101.1 is on the ground. The best part of the defense is their ability for force fumbles. Atlanta has 15 FF and have recovered 9. They also have 9 INTs, 28 sacks and 60 PD. LB Vic Beasley Jr. is a monster. He has 13.5 sacks and six forced fumbles. LB Deion leads the team in picks with three, while CB Robert Alford has 15 PD. Safety Keanu Neal has 87 tackles and four forced fumbles.
Atlanta Offense vs. 49ers Defense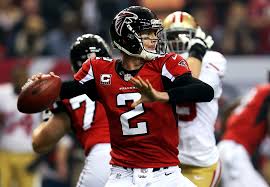 Behind quarterback Matt Ryan (68.3 COMP%, 30 TDs, 7 INTs, 31 Sacks) the Falcons are averaging 32.9 PPG. Ryan is passing for an average of 311.5 YPG. Julio Jones, his primary target, is out for the game, but there are plenty of other fine receivers. WR Mohamed Sanu (49 REC, 521 YDs, 10.6 AVG, 3 TDs) and TE Taylor Gabriel (29 REC, 504 YDs, 17.4 AVG, 5 TDs) are both top performers. RBs Devonta Freeman (182 ATT, 791 TDs, 4.3 AVG, 7 TDs) and Tevin Coleman (87 REC, 328 YDs, 3.8 AVG, 7 TDs) are also fine pass catchers. They each have two receiving TDs.
The San Francisco defense is giving up 30.2 PPG. That includes 170.8 ground yards and 255.5 passing yards. They've forced 13 fumbles, recovering nine and defended 61 passes. The D has grabbed eight passes and made 26 sacks. They also have 40 TFL. Guys who can make a difference include LB Gerald Hodges (3 Sacks, 1 TFL, 2 PD, 2 INTs, 1 FF), DB Jimmie Ward (1 Sack, 1 TFL, 12 PD, 1 INT, 2 FF), and LB Ahmad Brooks (5 Sacks, 4 TFL, 3 PD).
San Francisco 49ers Play Atlanta Falcons Free Pick
The spread favors Atlanta by 13.5. Atlanta has managed a few blowouts. One was against the Rams and the other the Cardinals. They also beat the Bucs soundly. San Francisco often keeps games close, but not when faced by a balanced offense like the kind the Falcons offer.
For our San Francisco 49ers play Atlanta Falcons free pick, we're going with Atlanta at -13.5. Kickoff is in Atlanta at 4:05 p.m. ET.
San Francisco 49ers Play Atlanta Falcons Free Pick: Falcons at -13.5