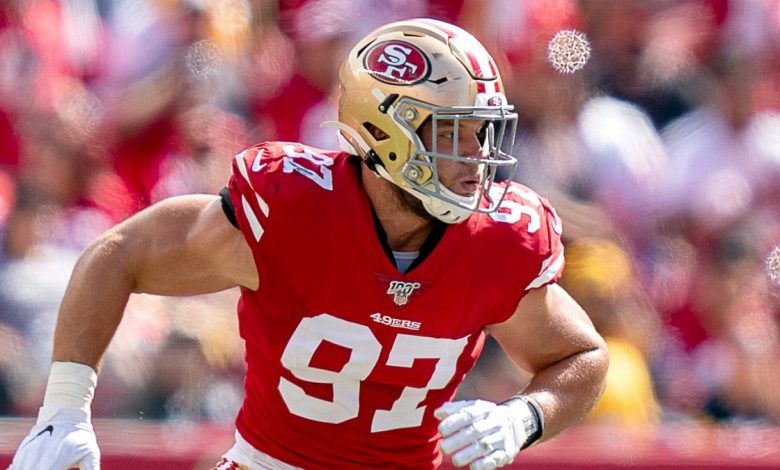 The San Francisco 49ers will try to complete half of their regular-season schedule unscathed when they take on the host Arizona Cardinals on Thursday night. San Francisco is a perfect 7-0 coming into this contest, leading second-place Seattle by 1.5 games in the NFC West. Arizona is currently at the bottom of the NFC West standings with a 3-4-1 mark.
San Francisco has been especially good in October, winning all four of its games by a combined score of 111-23, with the closest margin of victory coming in a 9-0 win at Washington. Arizona is coming off a 31-9 loss at New Orleans on Sunday that snapped the team's three-game winning streak.
The moneyline for this contest has the San Francisco 49ers -500 and the Arizona Cardinals +400. San Francisco is favored by 10 points on the road, and the over/under for this game has been set at 43.
Not Slowing Down
San Francisco continues to roll along, coming off a 51-13 rout of a Carolina Panthers that came into the matchup on a four-game winning streak. The ground game has been the main component for the 49ers' offense, with Matt Breida leading the way with 446 yards and a touchdown. Breida is questionable for this game with an ankle injury, which just opens the door for Tevin Coleman to have another solid performance after he had 105 yards and three scores on the ground in the win over Carolina.
The story of the 49ers' season has to focus on the team's defense, though, as San Francisco is second in the league in scoring defense, allowing 11 points per game. Teams are having trouble moving the ball at all against San Francisco, as the 49ers lead the league in yards allowed with just 224.4 per game. Rookie Nick Bosa has been outstanding, tying for seventh in the league with seven sacks, while cornerback Richard Sherman is tied for third in the league with three interceptions.
Roughed-Up Runners
The Cardinals are struggling to find any healthy body to put in the backfield behind Kyler Murray. Chase Edmonds is out with a hamstring injury, and David Johnson is not expected to play due to an ankle injury, which means newly-acquired Kenyan Drake will probably be the main ball carrier in this one. That is, when Murray doesn't keep the ball. He may be running for his life even when he goes back to pass against the ferocious San Francisco pass rush, though, so the Cardinals may as well just go with some designed runs for the rookie.
Defensively, Arizona has not been good. The Cardinals rank 29th in the league in yards allowed with 407.1 per game as well as 29th in points allowed with 27.9 per game. Linebacker Jordan Hicks has been a stalwart for Arizona, ranking second in the league in tackles with 79 while forcing two fumbles and making one interception. Linebacker Chandler Jones has also stood out individually, ranking third in the NFL with 8.5 sacks while forcing four fumbles.
San Francisco Rolls Again
The numbers simply aren't pretty going into this one. Yes, the old adage, "any given Sunday," applies to Thursdays as well, but it's hard to believe Arizona can even give San Francisco a game in his one. The 49ers are brimming with confidence on both sides of the ball, while Arizona is just trying to get through a game without further injuries. I'm taking San Francisco -10 to win this one easily and move to 8-0.