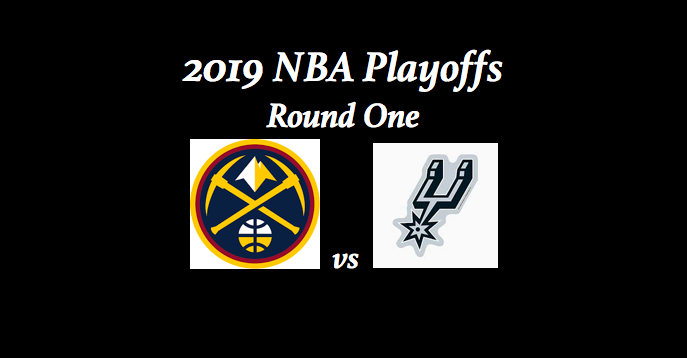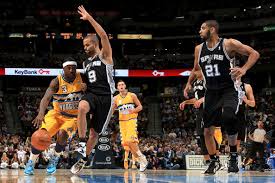 Our 2019 Denver Nuggets vs San Antonio Spurs preview sees the Spurs coming in with a four and one mark for their last five. Also, this Nuggets vs Spurs preview notes that Denver comes in with a three and two record for their last five contests. The Denver Nuggets (54-28) finished second in the Western Conference and first in the Northwest Division. The San Antonio Spurs (48-34), who were seventh in the conference, finished second in the Southwest Division. The Spurs finished five games behind the division's first-plcae Houston Rockets. The series tips off at 10:30 pm ET on Saturday, April 13. The first two games will be played in Denver, CO at the Pepsi Center. The second two will be held in San Antonio, TX.
Nuggets vs Spurs Playoff Preview – Stats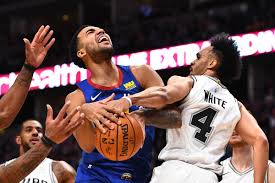 This Denver Nuggets vs San Antonio Spurs preview notes that the Nuggets are +4.0 in PPG/OPPG differential. The Nuggets are scoring 110.7 PPG and allowing opponents 106.7 PPG. The Spurs have averaged 111.7 PPG, a point better than Denver. But San Antonio is giving up 110.0 PPG, which is 3.3 points more than the Nuggets are allowing. The Spurs differential in points scored and opposing points scored is +1.7. That means that the higher-seed Nuggets carry a slight margin of +2.3 in PPG/OPPG going into this series.
Denver does carry a statistical edge over San Antonio in certain other areas too. Those edges include rebounding (46.4-44.7), assists (27.4-24.7) and shooting percentage (47.8% -46.6%). The Nuggets also top the Spurs in twos (52.7% – 51.3%). However, San Antonio is better on frees (81.9% – 75.5%) and threes (39.2% – 35.1%).
Denver Nuggets vs San Antonio Spurs – Players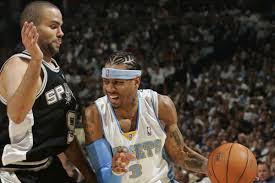 The Denver Nuggets will rely on double-double expert Nikola Jokic (20.1 PPG, 10.8 RPG, 51.1 FG%) to anchor the paint. Look for power forward Paul Millsap (12.6 PPG, 7.2 RPG, 48.4 FG%) to be another important presence. In the backcourt, PG Jamal Murray (18.2 PPG, 4.8 APG, 43.7 FG%) is the team's playmaker. SG Gary Harris (12.9 PPG, 2.8 RPG, 42.4 FG%) offers solid production. The backcourt includes other productive players, including Will Barton, Malik Beasley, and Monte Morris. Each is averaging between 10.4 and 11.5 PPG.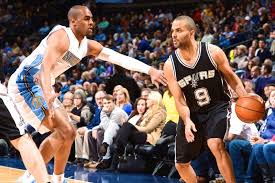 Our Denver Nuggets vs San Antonio Spurs preview sees Spurs' center LaMarcus Aldridge (21.3 PPG, 9.2 RPG, 51.9 FG%) and SF Rudy Gay (13.7 PPG, 6.8 RPG, 50.4 FG%) as being essential to this team's success in the frontcourt. SGs DeMar DeRozan (21.2 PPG, 6.2 PG, 48.1 FG%), Bryn Forbes (11.8 PPG, 2.9 RPG, 45.6 FG%), and Marco Belinelli (10.5 PPG, 2.5 RPG, 41.3 FG%) are all top-notch point scorers. DeRozan is the team's top playmaker, while PG Derrick White (9.9 PPG, 3.9 APG, 47.9 FG%) is a quality backup. Forbes hits threes at the rate of 42.6%.
Keys to the Nuggets vs Spurs Series
Spurs bring better shooting chops to this game
For San Antonio, DeRozan is a major playmaker
Jokic vs Aldridge in the paint – tossup
Both teams are deep in backcourt
Nuggets need Murray to step up in backcourt
Denver Nuggets vs San Antonio Spurs Preview – Our Pick
Our Denver Nuggets vs San Antonio Spurs preview notes that these two teams split their four-game regular-season series at two games apiece. They are overall evenly matched, but we do like the Spurs. DeRozan looks to be a major factor and San Antonio's frontcourt matches up well against Denver. Denver Nuggets vs San Antonio Spurs pick is the Spurs in seven games.
Summary – Denver Nuggets vs San Antonio Spurs Pick
San Antonio Spurs in 7 games