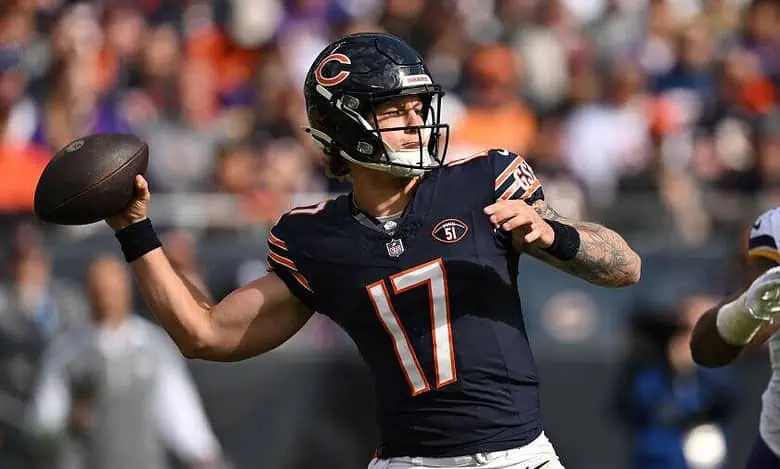 Not that Jimmy Garoppolo vs. Justin Fields would have necessarily moved the needle that much more, but now the week 7 Raiders at Bears betting matchup features the Brian Hoyer vs. Tyson Bagent QB showdown. If anything, both squads going down the depth chart at the signal caller position might actually add more intrigue to this meeting between 3-3 Las Vegas and 1-5 Chicago.
Oddsmakers had to have a tough time coming up with a line for Sunday's meeting at Soldier Field, but they went with the safe Raiders as -2.5 road favorites. As a whole Las Vegas probably has more talent and they've won two in a row, but a wager on either team really doesn't instill a ton of confidence.
Why the Raiders Have Value at -2.5
If you're looking at experience alone, the Raiders should have an advantage at the QB position considering Hoyer has been in the NFL since 2009 and will be making his 41st NFL start on Sunday compared to the 1st for Bagent. Even if Hoyer struggles and Las Vegas goes back to Aidan O'Connell, the rookie out of Purdue has still thrown more NFL passes (39) than the Chicago starter.
While their offense may struggle in the week 7 Raiders at Bears betting matchup, the truth is Las Vegas is probably going to win this one with their defense. LV is #11 in total yards allowed (315.3) and Maxx Crosby has 5.5 sacks in 6 games while getting to go against a Chicago offensive line already without their starting LT and possibly missing their RT and RG on Sunday.
The Raiders are 3-3 on the season, but they've won two in a row over Green Bay (17-13) and New England (21-17) and had a close loss to the Chargers before that (24-17). This is a team that seems to be playing better and build momentum, making a win over the hapless Bears a demand instead of a wish.
Why the Bears Have Value at +2.5
Sometimes the unknown is better than the known – ask anybody who has gotten a divorce. Fields has immense athletic potential but it really hasn't translated into success over the last three years as he's just 6-25 as a starter in Chicago.
We don't know much about Bagent besides the fact his dad is a champion arm wrestler, but we do know he's played a ton of football. Bagent played in 51 games at Shepherd University and broke the All-Time record for TD passes in Division II. Obviously the NFL is a big jump but having that much experience is a huge advantage just ask San Francisco's Brock Purdy.
The Chicago QB position is almost like politics where people are split down the middle for Fields vs anybody else. There is a buzz in the Windy City this week and some excitement to see what Bagent can do, so expect Soldier Field to actually give Chicago an advantage in this matchup.
Free Week 7 Raiders at Bears Betting Pick
Bagent would be a cool story if he could succeed as an undrafted free agent, but the NFL is hard enough without having a banged up offensive line and with the Bears also being down Khalil Herbert (ankle) and Roschon Johnson (concussion) at the RB position. If Chicago comes out on top here, it will be because the Raiders lost the game not because the Bears won it.
Free Pick: Raiders -2.5