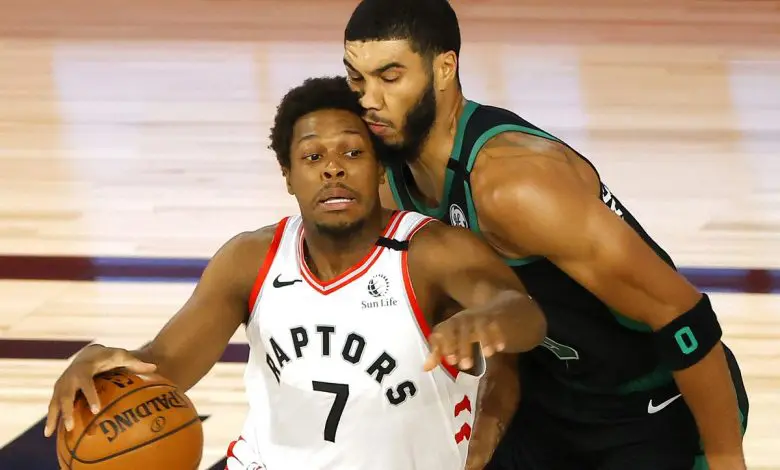 Toronto has made it a series heading into Raptors vs Celtics game 4 betting. Instead of falling into an 0-3 hole, Kyle Lowry and company pulled out a 104-103 win on Thursday. Boston took a 2-0 lead on wins by the score of 112-94 and 102-99, is it still the Celtics' series or is this one about to get real interesting?
The line for Saturday night's tilt opened at Boston as +1.5 underdogs coming off the last second game 3 loss but it has been bet to the Celtics -1.5 favorites. The first three games of the series have been low scoring, but the total for Raptors vs Celtics game 4 betting is still at 214, up a point from the open. 67% of public bettors like Boston to win and get the 3-1 series lead – or at least lose by less than two points.
Can Raptors Amp Up Defense Again?
The Eastern Conference Semifinals are a defensive battle, it's inevitable. The Raptors had the #1 squad in points allowed/game during the regular season 106.5 and Boston was right behind them at 107.3.
Some would say the Raptors were lucky to get the win in game 3 – and they are right. OG Anunoby hit a three pointer over 7'5″ Tacko Fall with 0.5 seconds on the clock. Even so the victory is something to build on for Toronto coming into game 4. The Raptors offense played much better on Thursday with Kyle Lowry going for 31 to lead all scorers and Fred VanVleet adding 25.
The Raptors were very sloppy in falling down 0-2 in the series. Lowry averaged just 16.5 ppg in the first two games and VanVleet 13.5. Pascal Siakam fueled Toronto's run to the title last season but he's yet to get going here with a high of 17 points in game 2. Boston's defense was #2 vs. the SF position during the regular season so Siakam will likely continue to be a non-factor.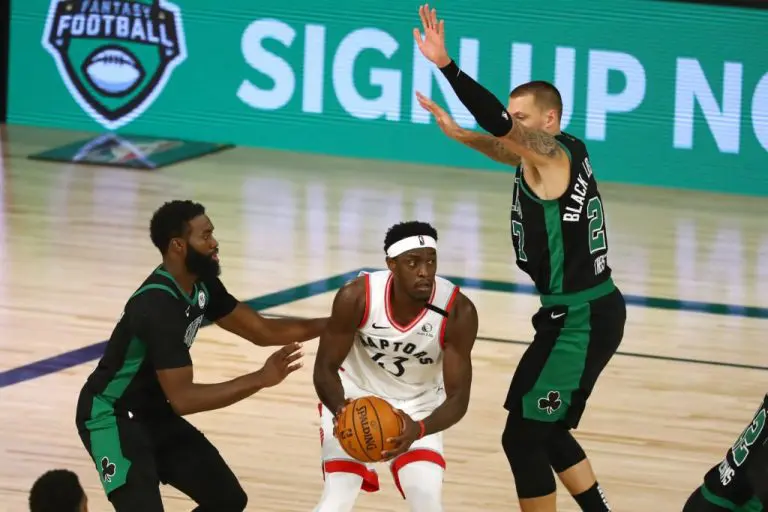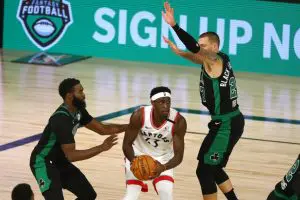 No Big Thing for Celtics
Boston has a positive mindset coming into Raptors vs Celtics game 4 betting. They know the Raptors stole one on Thursday, but the Celtics are using it as a humbling experience. Boston had been 6-0 to start the playoffs after sweeping Philadelphia and going up 2-0 on Toronto.
There are positive things to take from the loss as well. First and foremost is the play of Kemba Walker who fought right with Lowry and VanVleet for 29 points. Boston also racked up 50 points in the paint in game 3 after scoring just 24 on the blocks in game 2. Jayson Tatum had a down game with just 15 points after averaging 27.5 the first two – and the Celtics still only lost by a last second miracle shot.
Raptors vs Celtics Game 4 Betting
Toronto got the win they needed to make this a series but do they really have what it takes to make it two in a row? Boston is too well-coached and too talented to let this series slip away. With Milwaukee struggling in their first round matchup with the Heat, the Celtics know the East is there for the taking. The last-second loss in game 3 stings, but not if it's what propels you to a conference championship.
Free Pick: Celtics +1.5