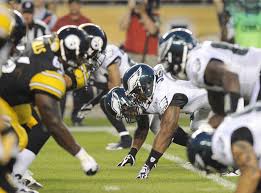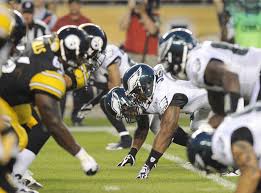 The Pittsburgh Steelers visit Philadelphia this Sunday. The game, which is set to kickoff at 4:25, features two solid defenses and two resilient offenses. The Steelers come in having beaten the Washington Redskins 38-16 in week one and 24-16 in week two. In week one, the Eagles handed the Cleveland Browns a loss 29-10 and the next week they were victorious over the Chicago Bears 29-14. Although these two teams appear to be in similar situations, they are quite different. The primary discrepancy has to do with their quarterbacks. Veteran QB Ben Roethlisberger runs the Steeler offense, while the Eagles feature their rookie signal caller Carson Wentz. Both have done an exemplary job thus far.
Pittsburgh Offense vs. Eagles D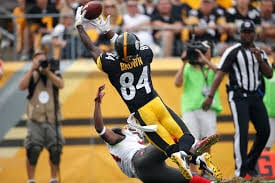 QB Ben Roethlisberger (62.2 COMP%, 6 TDs, 2 INTs, 2 Sacks) is having a good season thus far. Roethlisberger has tossed six TD passes to five different receivers. The ultra fast and wily WR Antonio Brown (12 REC, 168 TDs, 13.8 AVG, 2 TDs) has been especially reliable, while running back DeAngelo Williams (10 REC, 66 YDs, 6.6 AVG, 1 TD) has been a great safety outlet. Williams has run the ball 58 time, gaining 237 yards while averaging 4.1 YPA and scoring two touchdowns.
The Eagle D has done well in some respects, notching six sacks and forcing three fumbles and recovering two. They also have two interceptions. But they have been allowing too many yards in the air and will need to correct that. Pittsburgh's Brown is very hard to guard against, and he colud have a big day on Sunday. DE Brandon Graham ( 7 TCKL, 2 Sacks, 2 TFL) will try to put pressure on Roethlisberger and help contain the run, while safety Rodney McLeod (9 TCKL, 1 INT, 1 PD) and the rest of the deep backs will handle the Steeler receivers.
Philadelphia Offense vs. Steelers Defense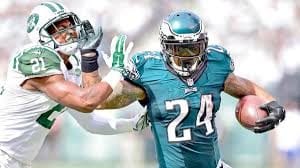 The Eagles bring a balanced attack to the field. Carson Wentz (60.6 COMP%, 3 TDs, 0 INTs, 4 Sacks) has not tossed a pick yet. He's been helped by a solid Philly running game, which has allowed him to mix up the attack. RB Ryan Matthews (31 ATT, 109 YDs, 3.5 AVG, 3 TDs) has been reliable and effective. Plus, there's depth in that unit with Darren Sproles and Kenjon Barner carrying the ball. The Eagles also have a good group of receivers that includes Jordan Matthews (13 REC, 185 YDs, 14.2 AVG, 1 TD) and Nelson Agholor (8 REC, 99 YDs, 12.4 AVG, 1 TD).
For the Steelers LB Ryan Shazier (18 TCKL, 1 TFL, 2 PD, 1 INT, 1 FF) has been essential to the team's defense. The team excels in passes defended, accumulating 15. They also have two picks. Still, this is a defense that has not been able to adequately contain the pass, although they have done well against the run. If Wentz is on target, he will be able to do some damage.
Free Pick: Pittsburgh Steelers Visit Philadelphia
The Steelers are favored at -3.5. This is not the easiest pick to make, but we're going to take Pittsburgh for a few reasons. The first is their experience, especially on offense. The second is their ability to adjust their offense to counter opponent defenses. The third is placekicker Chris Boswell who has been perfect. The Steelers win by 10.
Our Free Pick Pittsburgh Steelers Visit Philadelphia: Pittsburgh at -3.5