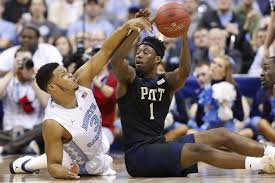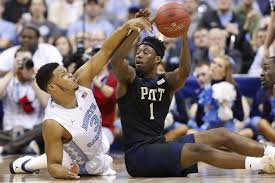 The Pittsburgh Panthers (12-10 Overall, 1-8 ACC), who are last in the ACC and have lost seven straight, take on the #21 Duke Blue Devils (17-5 Overall, 5-4 ACC), who welcome back coach Mike Krzyzewski from back surgery. Our Pittsburgh plays Duke college basketball free pick has the Blue Devils at -15.5. The tipoff for thus Feb. 4 games is 1:00 p.m. ET.
The Panthers have had one surprise win in the conference. That was on Jan. 4 when they beat #11 Virginia 88-76 in OT. Pittsburgh has kept it close against some good teams, losing 78-77 in OT to #24 Notre Dame, 85-80 to #14 Louisville, and 80-78 to #12 North Carolina. By the way, the second time they met Louisville, the Panthers were blown out 106-51.
The Blue Devils have been up and down. Their last game, which was on Jan. 30, gave them a solid 84-74 win versus #20 Notre Dame. In the five games prior to that victory, Duke went 2-3, losing to #9 Florida State 88-72 on Jan. 10 and to #14 Louisville 78-69 on Jan, 14. A 70-58 win against Miami followed and then an 84-83 Jan. 23 loss to NC State. They beat Wake Forest 85-83 on Jan 28.
Pittsburgh Panthers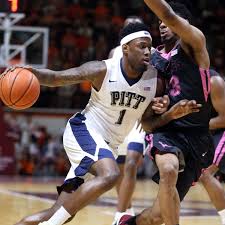 The Panther frontcourt will be responsible for scoring the majority of team points as forwards Jamel Artis (20.9 PPG, 5.0 RPG, 50 FG%) and Michael Young (20.3 PPG, 7.3 RPG, 46 FG%) are one and two in points per game. Sheldon Jeter leads the team in rebounds with 7.5 per game. Guards Cameron Johnson (12.2 PPG, 45 FG%, 41 3PT%) and Chris Jones (7.0 PPG, 50 FG%, 18 3PT%) will see a lot of action in this game.
Duke Blue Devils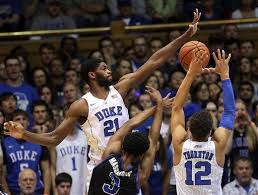 Five Duke players are averaging double-digits per game in point production. Guard Luke Kennard (20.2 PPG, 5.4 RPG, 2.5 APG), a solid player outside and in, leads the team in scoring. He's connecting on 54% of his field goals and 47% of his threes. Freshman forward Jason Tatum (16.1 PPG, 6.9 RPG, 44 FG%) is blocking 1.4 shots per game while making 1,6 steals. Guard Grayson Allen (15.6 PPG, 4.5 RPG, 3.9 APG) is knocking in 40% of his shots. In the paint, Amile Jefferson (11.9 PPG, 9.3 RPG, 61 FG%) is a reliable scorer.
Pittsburgh Plays Duke College Basketball Free Pick
Duke is hitting 48% of their field goals, while the Panthers are good on 45%. The Blue Devils are averaging 83.0 PPG and allowing 68.0. The Panthers are averaging 76.8 PPG and giving up 77.4. The 15.5 point spread looks large. Still, we like the Blue Devils. Our Pittsburgh plays Duke college basketball free pick is Duke at minus 15.5
Pittsburgh Plays Duke College Basketball Free Pick : Duke -15.5