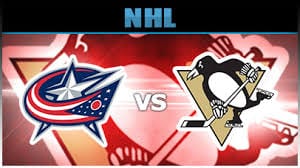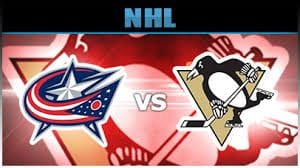 Our Pittsburgh plays Columbus NHL free pick has the number two and three teams in the Metropolitan Division going at it tonight. The Pittsburgh Penguins (36-13-7) are five points behind the division-leading Washington Capitals. The Columbus Blue Jackets (36-15-5) are two points behind the Penguins.
Pittsburgh has won two straight and is 6-2-2 for their last 10. The Penguins played the Winnipeg Jets last night. They beat them 4-3 in OT at Pittsburgh. The Blue Jackets last played on Feb. 14, beating the Toronto Maple Leafs 5-2. Columbus is 4-5-1 for their last 10. The Bluejackets have outscored Pittsburgh 10-5 this season while splitting the two games. In their last five games at Nationwide Arena, the Penguins have gone 1-2-2. The Jackets, who are in the midst of s seven-game home stand, have thus far gone 2-2.
Pittsburgh Penguins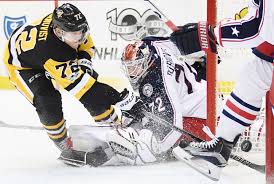 The Penguins are tops in the NHL in scoring, averaging 3.6 goals per game while allowing 2.8. Their power play at 22.2% is ranked fourth, but the team's penalty kill is 22nd at 79.6%. Matt Murray (21-6-2) and Marc-Andre Fleury (15-7-5) share goaltending duties. Murray tops the team in average goals allowed at 2.27 and save percentage at .926. Fleury has a 3.16 GAA and a .906 SV%.
On D for the Penguins, Justin Schultz (9 G, 30 A, +31 +/-) and Olli Maatta (1 G, 6 A, +17 +/-) were both injured last night and may not play tonight. Pittsburgh has a huge amount of firepower with centers Sidney Crosby (31 G, 33 A, +18 +/-) and Evgeni Malkin (24 G, 34 A, +16 +/-) and winger Phil Kessel (21 G, 34 A, +3 +/-) on the ice. Together, the three have 26 PP goals and 36 assists. Wingers Conor Sheary (17 G, 18 A, +18 +/-) and Patric Hornqvist (17 G, 17 A, +19 +/-) are both major contributors.
Columbus Bluejackets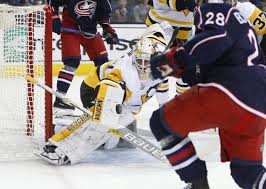 The Blue Jackets come to this game fifth in scoring (3.4 GPG), fourth in goals allowed (2.4 GPG), third in the power play (22.8%), and 12th on the penalty kill (82.1%). Overall goaltender Sergei Bobrovsky (30-12-3) has a 2.19 GAA and a .925 SV%. As of late he's struggled. He's back in goal after getting a day off against the Maple Leafs.
RW Cam Atkinson (27 G, 22 A, +9 +/-) is the team's major scorer. Along with being tops in points, he's third on the team in power play assists with 10 and second in power play goals with nine. Center Alexander Wennberg (10 G, 36 A, +5 +/-) leads the team in power play assists with 19, while RW Nick Foligno (20 G, 22 A, +3 +/-) tops the Blue Jackets in power play goals with 10. Defenseman David Savard (2 G, 11 A, +17 +/-) and LW Brandon Saad (17 G, 23 A, 17 +/-) are tied as leaders in plus/minus. On D, Seth Jones (10 G, 21 A, +10 +/-) makes the most of his shots scoring a 17.8% mark.
Pittsburgh Plays Columbus NHL Free Pick
In our Pittsburgh plays Columbus NHL free pick, we like the Penguins with the moneyline at +123, and on the totals bet, we like the under at 6.5.
Pittsburgh Plays Columbus NHL Free Pick: Pittsburg at +123 and under 6.5 goals