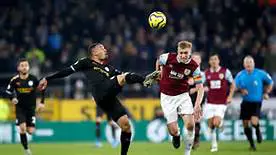 Our Manchester City vs Burnley pick is for Monday, June 22, 2020. This match will start at 3:00 pm ET. It's the only EPL game being played today. The contest will be held at Etihad Stadium. The Citizens, with 60 points, hold second place in the league, while the Clarets, with 39 points, are currently positioned in 11th place. Man City is 23 points behind league-leading Liverpool. This week the Premier League is in full gear as you'll find there's at least one contest being played each day except on Friday.
In this match, the odds favor the Citizens, as they're even at -2.0. Burnley is -120 with the point spread at +2.0. The draw offers odds of +800. The totals are listed at either 3.0 or 3.5 with the over being favored at -120. The under is listed as even.
Manchester City vs Burnley Pick – Form and Statistics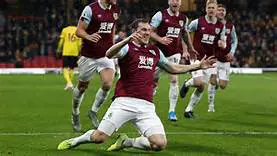 The Citizens restarted the 2019-2020 season in fine form, beating Arsenal 3-0. Over their last five games, they are 4-0-1. Our Manchester City vs Burnley pick notes that this is the Clarets first game since March 7 when they earned 1 -1 draw versus Tottenham Hotspur. For their last five games, Burnley is 2-3-0. The past five meetings between these two teams have favored Manchester City as the Citizens have recorded a mark of 4-1-0. Three of the four victories were by three or more goals. In those five games, Man City outscored the Clarets 16-2.
In addition to how well they have performed versus Burnley, Manchester City brings a huge statistical advantage to the pitch. They've scored 71 goals and allowed 31. The Citizens have also made 51 assists. On the other hand, Burnley has scored 34 times while giving up 40 goals. Their assist mark comes in at 23. When it comes to combined GF/GA differential, City dominates at +46.
Citizens vs Clarets – Players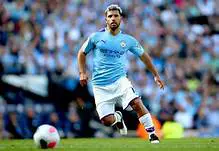 City is exceptionally deep on the scoring side as each of their top-three scorers are in double digits. Just one Claret player has reached that mark. That's forward Chris Wood who has notched 11 goals. Forward Ashley Barnes is next with six goals. On the other hand, Manchester City's top three netters are Sergio Aguero (16), Raheem Sterling (12), and Gabriel Jesus (10). Plus, midfielder Kevin De Bruyne leads the team in assists with 16. He's also scored nine times.
Manchester City vs Burnley Pick – Final Word
Burnley is playing their first game after almost a four-month break against a team that performed well its first time out. As a consequence, we think there's a good chance that the Clarets will be overwhelmed. Plus, the Citizens are very deep and aggressive. In conclusion, our Manchester City vs Burnley pick is the home club Citizens at -2.0 (EVEN).
Manchester City vs Burnley – Summary
Manchester City at -2.0 (EVEN)