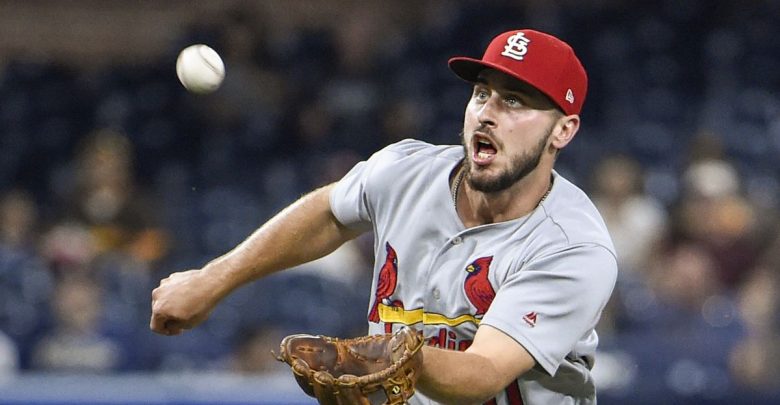 The Pittsburgh Pirates are in St. Louis for a four-game series against the Cardinals, and things did not go very well for the visitors in the series opener. St. Louis exploded for a 17-4 victory, and the Cardinals have been almost unbeatable at home this season. The Cardinals improved their record to 14-6 at Busch Stadium and dropped the Pirates to an 8-8 record in road games.
St. Louis was in first place in the National League Central Division, but a four-game losing streak knocked them out. The Cardinals are still a playoff contender this season and come into this game with a record of 22-16. Pittsburgh has also gotten off to a decent start this season and comes into this contest with a record of 17-17. The Pirates' problem is that they are in a loaded division. The St. Louis Cardinals are -150 over the Pirates in this game.
Veteran Wainwright Pitching Well
Adam Wainwright is on the tail end of his career, but he is still pitching like he is in his prime for the Cardinals. Wainwright has a high earned-run average of 4.71 this season, but he has grinded it out and brings a 3-3 record into this game. The Cardinals know that they won't get a ton of innings from their former ace, but they have some flame throwers in the bullpen that can take the game over. Closer Jordan Hicks has recorded nine saves this season and has 18 strikeouts in just 13.1 innings pitched.
Shortstop Paul DeJong has quietly emerged as one of the top young players in the National League. DeJong leads the Cardinals with a .329 batting average and has also belted seven home runs. St. Louis is waiting on Paul Goldschmidt to get hot again, but Marcell Ozuna is picking up the slack for the offense. Ozuna leads the team with 11 homers and 34 runs batted in. This Cardinals lineup is much improved from a season ago.
Pirates Have a Sneaky-Good Offense
The Pittsburgh Pirates don't get a ton of media attention, but they have a very talented offense that can put up runs in a hurry. Pittsburgh is hitting just .235 as a team coming into this game, but they have some thunder in their lineup. First baseman Josh Bell leads the team with nine home runs, and Melky Cabrera is hitting a cool .337. The Pirates have scored at least four runs in each of their last five games.
Pittsburgh had to use a ton of bullpen arms in the series opener, and that could come back to bite them in game two of the series. The Pirates have a team earned-run average of 4.25, and getting other teams out has been an issue all season long. Righthander Trevor Williams will be making his eighth start of the season on Friday night, and he has been up and down. Williams has gone 1-1 with a 3.74 earned run average this season and now faces a red-hot Cardinals lineup.
Wainwright, Cardinals Win Second Straight
This Cardinals team feels much better than they have been in recent seasons, and they have been beating everyone in St. Louis. If the Cardinals get a decent start from Wainwright, then their offense should give them enough production to win. Pittsburgh is a decent team, but they don't have enough to beat the Cardinals or Wainwright. Bet the Cardinals -150 over the Pittsburgh Pirates on Friday night.