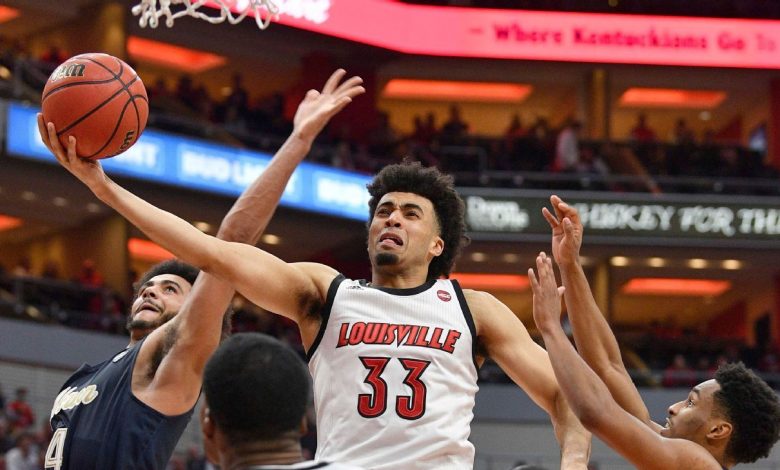 Coming off a big win over early-season giant killer Michigan, the Louisville Cardinals look to defend their homecourt in an Atlantic Coast Conference league game against the Pittsburgh Panthers. Louisville comes into the game a perfect 8-0 and ranked No. 1 in the nation behind preseason All-American forward Jordan Nwora.
Louisville was able to get the double-digit win over the Wolverines in the ACC/Big Ten Challenge despite having its worst offensive performance of the season at just 0.88 points per possession. Despite the stout Michigan defense, Nwora was able to log a double-double of 22 points and 10 rebounds. Steven Enoch also continued his high level of play, posting a 13-point, 10-rebound double-double.
Pittsburgh comes into the game with four wins over Power 6 opponents and a 7-2 overall record. The Panthers are currently 71st in Kenpom and are led by sophomore guards Xavier Johnson (11.7 points, 5.2 assists) and Trey McGowens (12 points, 4.2 rebounds), along with junior wing Ryan Murphy (11.9 points).
They have won five in a row overall since getting thrashed against West Virginia in the backyard brawl, collecting wins over Kansas State, Northwestern and Rutgers in the last two weeks.
Louisville is a 13-point favorite in this game, with the over/under set at 128.
Stalking A Bird And, Hopefully, A Win
While the Pittsburgh team might be on a roll, star point guard Xavier Johnson has been struggling so far this season. Though he has improved his three-point shooting this season, his numbers have regressed in almost every other category. He is down four points per game from last season, and his field-goal percentage and free-throw percentages have also taken hits, while his turnovers have stayed the same despite a drop in usage. When Pittsburgh was able to upset Louisville last season, Johnson had 22 points, 10 assists and five rebounds. It may take a similar performance to get the win on Friday night.
Cardinals Looking To Fly Even Higher
Kenpom's current No. 1 team in the nation is currently projected to only lose three games the rest of the season, and it's not hard to see why. The Cardinals just held a top 40 Michigan offense to 43 points and 0.65 points per possession on Tuesday night. When you think pack-line defense, you think Virginia, but Louisville also plays a variation of that defense and showed it to be effective against the Wolverines.
The Cardinals offense is also fantastic, currently ranking in the top 20 in team field-goal percentage, and top 40 in three-point percentage. They also rank in the top 40 in total rebounding.
Pick and Prediction
Despite being the favorite in every game this season, Louisville is just 4-4 ATS, while Pitt is 6-3. Pittsburgh's three-point shooting is concerning at just 25.9 percent, but it isn't without quality offensive pieces. The largest concern for Pittsburgh is Trey McGowens, who is the team's leading scorer but averages four fewer points per game on the road and shoots 23 percent worse on two-point field goals over the course of his career in true road games.
Combine that with what Louisville just did to Michigan defensively, and you can't expect a whole lot of deviation in those splits. Pittsburgh is sneakily decent on defense as well, but you can expect Louisville's scorers to show up in a league game. I'm taking the Cardinals to cover.