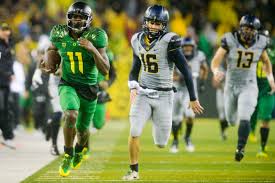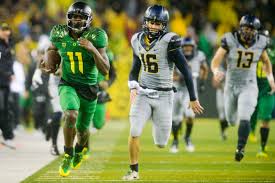 Our college football free pick featuring Oregon visiting California in a game that will be played on Friday, October 21 at Memorial Stadium in Berkeley, CA. Kickoff for this PAC-12 contest is at 10:30 p.m. ET. The home club is at +1.0. This is expected to be a close game. The Ducks are 2-4 and the Golden Bears are 3-3. Oregon does not have a conference win while California has notched just one.
Oregon Ducks Offense
Oregon is scoring an average of 36.8 PPG. Their last game was against the 6-0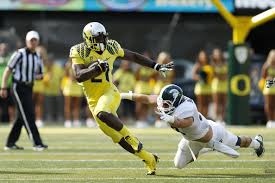 Washington Huskies. They lost that contest 70-21, and then were off for their bye week. Freshman QB Dakota Prukop has put up some decent numbers, connecting on 66.2% of his passes and tossing eight touchdowns and two interceptions. His favorite wide receiver is Darren Carrington II. Carrington II has 24 catches for 351 total yards and 14.6 YPC. He's scored three TDs.
Royce Freeman anchors the teams running game. He's gained 513 yards and has notched seven scores. When it comes to the run this is a deep team. You'll find there are four players averaging 5.8 yards or more per rush. Included in that group is Tony Brook James and his six TD runs. Thus far the club has a total of 21 rushing touchdowns. The good news for the Ducks is that the home team is allowing opponents 283.8 yards. They may be able to run all over California in this one.
California Golden Bears Offense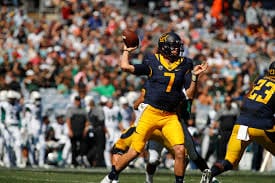 On the flip side, the Golden Bears are averaging 42.3 PPG. Of the team's 530.2 yards of offensive, they are gaining 377.8 YPG in the air. They've only been good for 152.3 YPG on the ground. For the Bears, QB Davis Webb is a sound offensive force. Webb is completing 60.8% of his passes and has tossed 22 TDs and seven interceptions. He's been sacked 12 times. Although he's listed as being questionable for tonight's game, he is expected to play. Chad Hanson (59 REC,770 YDs, 13.1 AVG) and Demetris Robertson (20 REC, 338 YDs, 16.9 AVG) are his two primary receivers. The former has eight TD catches and the latter five.
The California running game is not as solid as its passing, however, they do have some quality players. RB Khalfani Muhammad has gained 377 yards on 55 carries for an average of 6.9 YDs and two touchdowns. With two touchdowns and an average of 5.5 YPA, RB Vic Enwere is a major rushing threat.
Defensive Assessment
The question regarding defense in our college football free pick featuring Oregon visiting California is can either team stop the other? The Ducks have allowed an average of 522.3 yards of offense per game, splitting passing and rushing offense almost equally. The Golden Bears have given up 494.7 yards of offense per game. The result is that teams are scoring 41.3 PPG this year against the Ducks and 40.0 PPG when the Bears play. We expect a lot of points to be scored in this game.
College Football Free Pick Offers Oregon visiting California
Our college football free pick offers Oregon visiting California in a game where we like the Golden Bears. We are considering that the Golden Bears beat #18 Utah 28-23 and then lost on October 8 to the Oregon State Beavers in OT 47-44. Despite that loss, they have been playing better than the Oregon Ducks, beating #11 Texas on September 17 by a score of 50-43. California at +1. The under at 90.0.
College Football Free Pick Offers Oregon visiting California: Take California at -1.0 in this one and the under at 90.0.