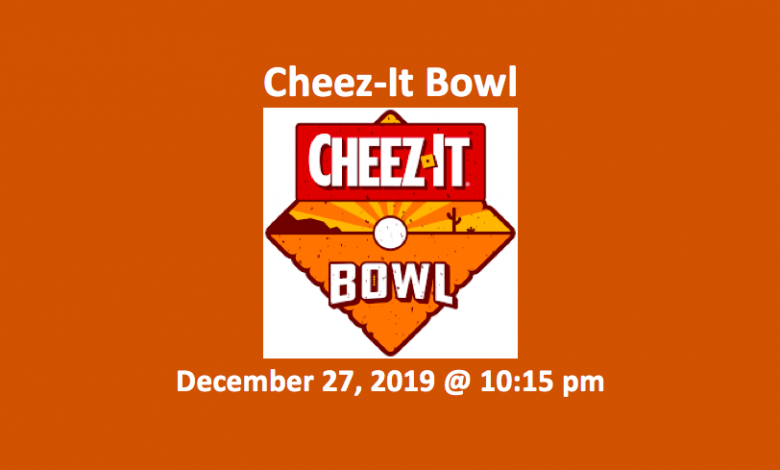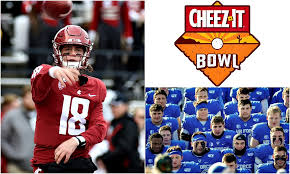 Our 2019 Cheez-It Bowl pick offers the Air Force at -2.5 and the over/under at 68.5. This Cheez-It Bowl prediction is for the last of five bowl games being played on December 27. It is one of the busiest days of bowl action during a time when 40 different games are played plus one final contest for the national title. The Cheez-It Bowl will be played on Friday, December 27 at 10:15 pm ET at Chase Field in Phoenix, Arizona. Tomorrow's Camping World Bowl and Goodyear Cotton Bowl Classic, both of which will kick off at noon, mark the midpoint of 2019 – 2020 college football bowl action.
The Air Force Falcons (10-2) were 7-1 in Mountain West play. Air Force ended the season second in the Mountain Division. They were one game behind the division winners, the #19 Boise State Broncos. The Washington State Cougars (6-6) finished fifth in the Pac-12 North with a 3-6 conference record. That division was won by the #6 Oregon Ducks who went 8-1 in the conference.
2019 Cheez-It Bowl Pick – Regular Season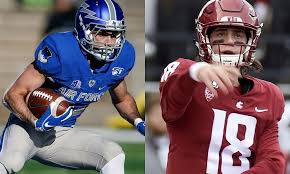 Over the first five games of the season, Air Force started with a 3-2 mark. The two losses, however, were huge. After going 2-0, the Falcons met the #20 Boise State Broncos, losing 30-19. Then, after an easy win over San Jose State, the Navy Midshipmen beat Air Force 34-25. Our 2019 Cheez-It Bowl pick notes that after those two losses, the Falcons ran the table, winning seven straight contests.
The Washington State Cougars notched three wins to start the season, and then suffered three loses. With a 3-3 mark, they went on to replicate that record in the second half of the season. Three of the Cougar losses were to top 25 teams. #19 Utah, #18 Arizona State, and #11 Oregon all beat WSU. The other teams that took them down were the UCLA Bruins, California, and rivals Washington.
Air Force Falcons vs. Washington State Cougars – Stats
This is an interesting matchup, as both teams can deliver on offense, but only one has stopping power on defense. The Falcons are averaging 34.3 PPG, and they are holding opponents to 19.8 PPG. As already noted, the Washington State Cougars can deliver on offense. They're averaging 39.2 PPG. However, their D has holes. The Cougars are allowing 31.4 PPG.
On offense, Air force loves to run. They're averaging 292.5 YPG on the ground. Meanwhile, in the air AF is good for just 131.0 YPG. On the other end of the spectrum, the Cougars are passing for 444.3 YPG. Their rush attack is generating just 72.5 YPG. On defense, the Falcons are allowing just 315.8 total YPG. That includes 208.1 YPG passing and 107.7 YPG rushing. Defensively, the Cougars are allowing more yards per game, 456.8, than the they or the Falcons are generating on offense. They are giving up 286.8 YPG in passing and 170.8 in rushing.
Air Force at Washington State – Players
Air Force comes into this contest with a clear advantage on defense and a very strong offense that should match up well against the Cougars offense. Although the Air Force attack is focused primarily on the run, they still pass enough to keep teams guessing.
Air Force Falcons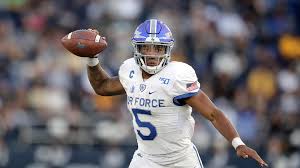 Our 2019 Cheez-It Bowl pick observes that the Falcons have four players with 100 of more carries and three of those players have over 700 yards each rushing. QB Donald Hammond III has 106 rushes for 491 yards and 11 TDs. Hammond has also thrown for 1,286 yards, completing 52.5% of his passes and tossing 13 scoring passes and five picks. He's been sacked four times. WRs Geraud Sanders and Benjamin Waters each have seven TD catches. RB Kadin Remsberg brings 155 carries, 872 yards, and seven TDs to this game.
On defense. Air Force has only seven interceptions, but three have been run back for TDs. They've also made 25 sacks, defended 41 passes, and forced 11 fumbles recovering seven. DB Milton Bugg III has three picks and three PD, while DB Zane Lewis has 14 PD. LB DeMonte Meeks leads the team in total tackles with 97 and sacks with four.
Washington State Cougars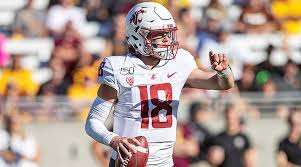 QB Anthony Gordon can sling the ball. Gordon has thrown for 5,228 yards and 45 TDs. He's certainly accurate, completing 71.9% of his throws. Gordon has been sacked 18 times and has tossed 16 picks. Two Cougar receivers have 80 or more catches, and four more have 40-plus. Easop Winston III comes into this contest with 80 catches and 11 scores. RM Max Borghi has rushed for 790 yards on 121 carries. He's averaging 6.5 YPA and has crossed the goal line 11 times.
The Cougar defense has just 29 PD. That says something about their lack of coverage. Other stats include 23 sacks, nine picks, and 11 FF with seven recovered. LB Jahad Woods is the team's top tackler with 63 solo and 121 in total. He's also posted three sacks and one INT. Safety Skylar Thomas has three picks and two PD. DL Will Rodgers II leads the club with four sacks.
Five Keys to the Game
This 2019 Cheez-It Bowl pick acknowledges the following keys to the game:
Air Force ground attack must be established early.
Falcons need to use the pass effectively
Cougars pass attack must be on the money
WSU ground game needs about 100 yards to be effective
If Cougar D cannot step up, Air Force will soar
Our 2019 Cheez-It Bowl Pick
We do think there will be plenty of points scored in this one. Maybe over 75. Go with the over at 68.5. Our 2019 Cheez-It Bowl pick can certainly see this contest going either way. But we do find that the AF defense gives the Falcons an upper hand. It's Air Force ground game versus Washington State air attack. With defense, determination, and deadly ground game, Falcons win.
Makers Wanted Cheez-It Bowl Pick – Summary
Air Force Falcons at -2.5 and over 68.5