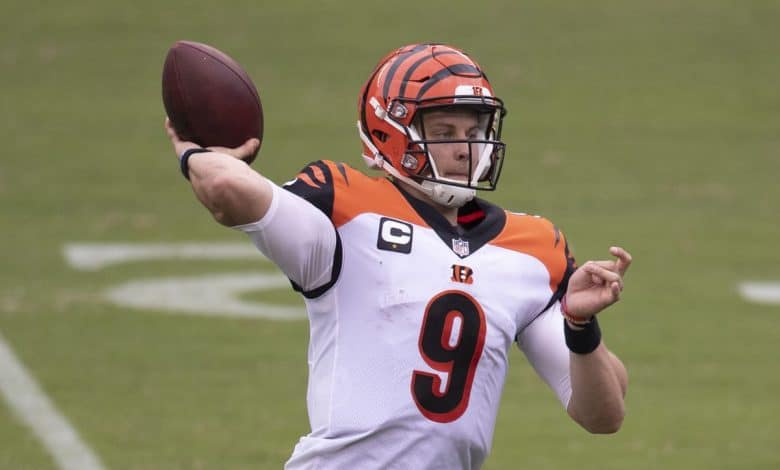 The Cincinnati at Washington pick seems like a game only a bettor could love. The 2-6-1 Bengals go on the road to face 2-7 Washington, but the good thing is you only have to pick a winner with the line WAS -1.
The Bengals would seem to get a lean in this one behind their dynamic young QB Joe Burrow, but Cincinnati has also gone 0-3-1 on the road this season. Washington has lost three of their last four games, but those defeats came by a combined 7 points. Both of Washington's wins have come at home this year as well. There's value – or lack thereof – on both sides here.
Bengals Have Run a Gauntlet
It's hard to gauge the Bengals' 1-4 record over their last 5 because the defeats have come against Baltimore, Indianapolis, Cleveland, and Pittsburgh with a win over Tennessee; all projected AFC playoff teams. It might look like Joe Burrow is starting to hit a wall in his rookie year, but that could also be the result of facing a gamut of quality teams.
What's unfortunate for the Bengals in the Cincinnati at Washington pick is that they are up against another pretty good defense on Sunday. Washington has the #1 pass defense in the league (194.7), and is 4th in the NFL in sacks (28). Burrow was sacked 4 times last week by Pittsburgh, and the Bengals are second in the league giving up 3.6 sacks per game. It could be a reunion in the backfield between top pick Burrow and #2 selection Chase Young, who has 3.5 sacks for Washington.
On the positive note for Burrow, he has gone two straight games without an interception after having a pick in four straight. The rookie has also completed 70% or better of his passes in two of the last three. Washington has good pass defense, but also allowed 276 yards and 3 TD to Matthew Stafford last week so they are not invincible.
Washington Seems to Have Found an Offense
One of the best stories in the NFL this season is Washington QB Alex Smith returning from a near leg amputation to not only take the field, but excel. Smith played sparingly in an October 11th loss to the Rams, but entered for Kyle Allen two weeks ago and has responded with back-to-back 300+ yard games.
Smith had 325 yards vs. the Giants, but also threw a very costly three INTs. He backed that up with 390 on 55 attempts last week vs. Detroit, but it was a second straight 3-point loss for the Redskins. Smith will likely compile a bunch of yards again on Sunday against the Bengals' #26 ranked pass defense, but how can Washington equate that output into wins?
Free Cincinnati at Washington Pick
A couple things that stick out in this game is the Bengals' impressive 31-20 win over the Titans on November 1st and getting up 24-7 at one point on the road in an eventual loss to Indianapolis. That shows the potential that this Cincinnati squad has, whereas Washington's wins came at home against the Eagles in the season opener and thumping a depleted Dallas squad 25-3 in week 7.
Cincinnati 24 – Washington 20
Free Pick: Bengals +1