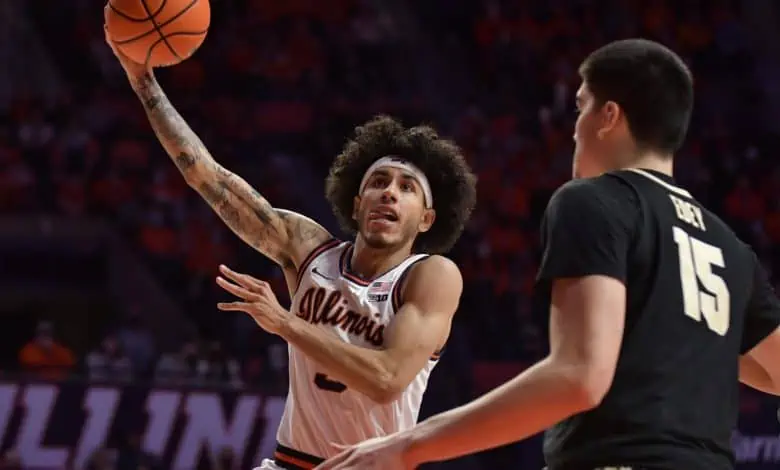 It's round two in the February 8th Illinois at Purdue betting matchup as these top-25 teams needed double OT to decide their first meeting, a 96-88 Boilermakers win. The Fighting Illini are 4-1 since then and at 10-2 in Big Ten play they sit atop the conference.
Purdue is 9-3 in the Big Ten, and a season sweep over Illinois would go a long way in getting the #1 seed for the conference tournament. The Boilermakers had a letdown game after their first win over the Fighting Illini falling 68-65 at Indiana, but they have bounced back with five straight wins. Purdue is a -6 point favorite on Tuesday night at Mackey Arena, where they are 12-1 on the season.
Keep Cockburn on the Court
One of the biggest reasons that Illinois was not able to overcome Purdue in Champaign last month is because Kofi Cockburn was limited by foul trouble, ultimately committing his fifth just :40 into OT. The 7-foot, 285 pounder was limited to just 22 minutes, held to 10 points and 5 rebounds.
It's no coincidence that Cockburn got into trouble in the first meeting with the Boilermakers because Purdue is huge. 7'4, 285 pound Zach Edey and 6'10, 265 pound Trevion Williams make life on the interior pretty miserable for opposing big men. Cockburn has been pretty dominant including a 37 point, 12 rebound performance last Wednesday against # 11 Wisconsin, but the Boilermakers are just a different beast.
Illinois is 17-5 on the year, and you don't get to that point being a one-man team. The Fighting Illini backcourt was very good in the first meeting with Purdue led by 24 points from Alfonso Plummer and another 20 off the bench from Andre Curbelo. Trent Frazier has also elevated his game lately most recently with an 8-11 shooting night on Saturday en route to a 74-57 win at Indiana to easily cover the -2.5 spread.
Purdue Aims for 1st Place
The Boilermakers look to be in solid form with five straight wins. They've climbed back up to #3 in the country and a 74-69 loss to Wisconsin is their only blemish at Mackey Arena this year.
Most recently Purdue was able to upend Michigan 82-76 on Saturday but they did fail to cover the -9.5 home spread. The Boilermakers did give up 28 points in the post to Michigan's Hunter Dickinson in that game, which isn't a promising performance heading into a matchup with Cockburn.
Edey had 13/9 vs. Michigan but also only played 17 minutes while Trevion Williams had 19/8 off the bench. Much like Illinois, Purdue has a great inside-out game led by guards Jaden Ivey (who had 23 vs. Michigan) and Sasha Stefanovic who had 22 in the first meeting with Illinois.
Free February 8th Illinois at Purdue Betting Pick
Illinois had won three straight in this series prior to Purdue's OT win earlier in the year. The big question in Tuesday night's game is if Cockburn can stay out of foul trouble. Scoring isn't the problem when Cockburn is off the floor as Plummer and Frazier can pick up the slack, but Illinois held a huge disadvantage on the boards and in rebounding when he was on the bench in the first matchup.
Illinois 63 – Purdue 74
Free Pick: Purdue -6