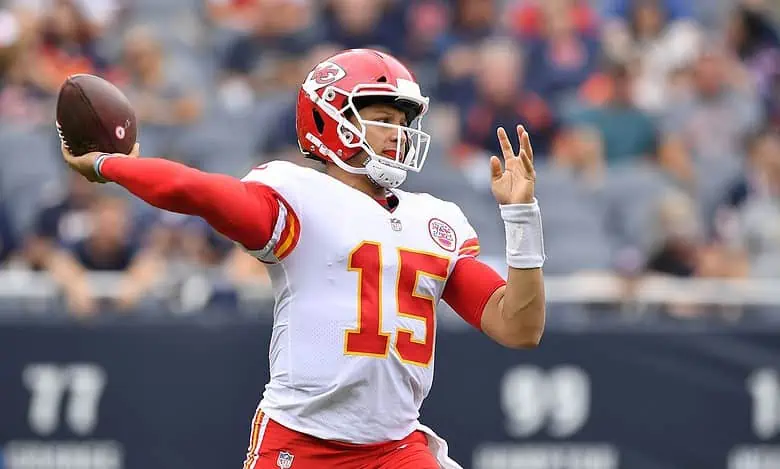 AFC West rivals will kick off Week 6 of the NFL season with an interesting matchup on Thursday Night Football. It will be the Denver Broncos visiting the Kansas City Chiefs on Thursday, and these are two teams that don't typically like each other.
It's been a second straight rough season for the Broncos, as they are coming into this game with a record of 1-4. Denver was humbled in Week 5 as they suffered a 10-point loss at home to the lowly New York Jets on Sunday.
Kansas City has rattled off four straight wins after losing the season opener to the Detroit Lions. The Chiefs are still one of the betting favorites to win the Super Bowl this season, but they have some work to do along the way.
The Chiefs are 10.5-point betting favorites over the Broncos on Thursday Night Football.
Defense is Missing For Denver
The Denver Broncos are a team with a number of flaws heading into Week 6, but the lack of defense is at the top of the list. Denver is giving up 470 yards per game this season, and that includes nearly 190 rushing yards per game.
This Broncos team was supposed to be great on that side of the football, but they just haven't been able to get stops to get off of the field. Denver does have an offense that can put up some points, but they aren't going to win in a shootout against Kansas City.
Running the football has also been a challenge for Denver this season, and that puts a ton of pressure on Russell Wilson. The former Seahawks star has thrown 11 touchdowns this year, but he has had to throw the ball out of necessity.
Chiefs Continue to Score Points
The Kansas City Chiefs are averaging just 386 total yards per game this season, but they always come up with clutch plays when needed. The Chiefs have racked up 123 rushing yards per game, and that has allowed Patrick Mahomes to have some success in the passing game.
Mahomes has thrown for 1,287 yards and ten touchdowns this season, but he does have four interceptions as well. Kansas City loves to give their star quarterback some freedom, but they also need to take care of the ball.
The defense for the Chiefs has been much better than expected this season, and that unit could actually take over this game. If Kansas City is able to shut down the passing attack from the Broncos, then this could be a convincing game.
Broncos Get Blown Out By Chiefs
Denver is at the point of the season in which they will be playing desperate, but that doesn't mean that they are good enough to win games. The Broncos might find the end zone a time or two in this game, but that defense is going to get torched in this one.
Patrick Mahomes just simply knows how to win games, and he will lead his team to another dominant performance in this one. Kansas City is an underrated defense, and that unit is going to help create some separation in this matchup.
The bet to make in this game is to take the Kansas City Chiefs at -10.5 on the spread, as they are going to light up the scoreboard in this game.