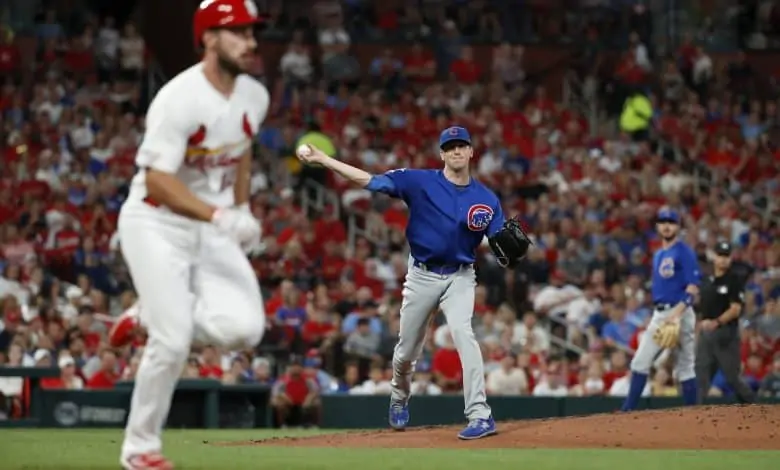 Chicago should have some momentum coming into the July 21st Cubs at Cardinals matchup after posting a 6-run 9th inning on Tuesday night to pull out an unlikely 7-6 win as +101 underdogs. It was a nice bounce back game for the North Siders who looked very disinterested in an 8-3 loss on Monday as -111 favorites.
Oddsmakers are calling Wednesday's matchup another close one, with the Cardinals at -118 and the Cubs +109. This should be a solid pitching matchup as Chicago sends Kyle Hendricks (12-4, 3.65 ERA) up against Adam Wainwright (7-6, 3.71 ERA). The betting total is just 8, but which side has the value?
Where Did the Cubs Offense Come From?
Chicago's win probability was percentage points while facing a 6-1 deficit going into the top of the 9th inning on Tuesday. Some how, some way the Cubs were able to plate 6 in the final frame capped off by a 2-run double by Ian Happ that gave Chicago the victory that snapped a 2-game losing streak. It was the first ever blown save by St. Louis' Alex Reyes.
The big question heading into the July 21st Cubs at Cardinals contest is if Chicago is the team from the first 8 innings on Tuesday or the squad from the final frame? Chicago could be without Kris Bryant on Wednesday night after he left with hamstring fatigue and they managed just 1 hit over 8.0 IP against Wainwright at the end of May. Happ has 4 HRs in 17 career ABs vs. the Cardinals starter, but Javy Baez is just 5-32 (.156) with 11 K's vs. Wainwright.
Chicago definitely has some value at +109 with Hendricks on the bump. The right-hander hasn't suffered a loss since May 9th, going 10-0 in his last 12 starts. Hendricks has allowed 5 ER total in three starts vs. St. Louis this year (19.0 IP) and has given up 2 ER or less in 6 of his last 7 starts overall.
St. Louis Shoots For Series Win
The Cardinals could have pushed towards their second straight series win after the all-star break if they would have been able to hold on to a 6-1 lead in the 9th inning on Tuesday. St. Louis took 2 of 3 from 1st place San Francisco last weekend despite scoring just 7 total runs, but their offense has looked better vs. the Cubs.
Make no mistake, St. Louis has their work cut out for them on Wednesday vs. Hendricks. As a team the Cardinals are hitting .227 vs. the Cubs starter, but Nolan Arenado does have 3 HRs in 33 career ABs vs. the Cubs starter. Paul Goldschmidt has gone 12-38 (.316) vs. Hendricks in his career.
Wainwright dazzled in his only start vs. the Cubs this season, going 8.0 IP of 1-hit ball even though the Cardinals lost 2-1 in that May 23rd game as -131 home favorites. The right-hander struggled in his first start post all-star break, giving up 4 ER (including 2 HR) to SF over 6.0 IP last Friday. Wainwright has a 2.84 ERA at home this season compared to 5.35 on the road.
Free July 21st Cubs at Cardinals Play
This game likely won't have a breakthrough until the 7th or 8th inning with Hendricks facing Wainwright. Despite the St. Louis bullpen meltdown on Tuesday they can still be trusted, and Craig Kimbrel and Co. are basically lights out for the Cubs. There's no other way to go in this one besides banking on a low scoring game.
Cubs 4 – Cardinals 3 
Free Pick: Under 8