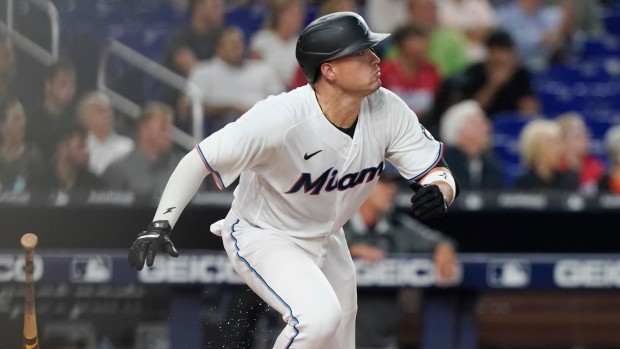 San Diego started their East Coast road trip on a high note taking two of three in Juan Soto's return to Washington, but it hasn't gone well since then after dropping the first two in Miami. Now the home team is on the verge of a sweep heading into the August 17th Padres at Marlins betting pick.
San Diego has fallen 3-0 as -145 favorites and 4-3 at -144 the first two contests of this series, not the kind of production at the plate this supposed high power offense should be producing. Oddsmakers are keeping the faith though, putting the Padres at -154 in the finale even on getaway day as SD prepares to head home for a six game home stand. The Marlins have some value at +130.
San Diego Offense a Liability
It hasn't been a bad couple of pitching outings the last two games for San Diego, who got 6.0 IP with 3ER allowed by Joe Musgrove on Monday followed by the Padres outhitting the Marlins 10-6 in Tuesday's loss. The lack of offensive production is noticeable with just three total runs scored in two games, especially after plating 19 in the three game series with the Nationals.
Manny Machado has had a decent series going 3-8 and had an RBI double in Tuesday's loss and is hitting .476 over the past week. Soto is just 1-7 with 3 K's though and still has just 1 HR in his 13 games since joining the Padres at the trade deadline. It's been Wil Myers who has been the Padres hottest hitter as of late, going 6 for his last 11.
Mike Clevinger (4-4, 3.47 ERA) is on the mound in the August 17th Padres at Marlins betting matchup in his first ever appearance against Miami. Clevinger has had a so-so return from missing last season due to Tommy John surgery, but the Padres are 9-5 in his 14 starts. Clevinger gave up 5 ER at the Dodgers in his last start.
Marlins Offense Producing
The Padres only have three runs in two games this series and it was Miami who came into the set with the offensive struggles. The Marlins had been held to 3 runs or less in 16 straight games prior to Tuesday's 4-3 victory as +133 underdogs.
Nick Fortes had the hot bat on Tuesday night with two solo HRs and three runs scored. Fortes had a 3-hit night after Miguel Rojas and Jacob Stallings had three hit nights in the series opener. No Marlins batters have ever faced Clevinger.
Sandy Alcantara pitched 7 innings of shutout ball in Monday's series opener, a performance that Pablo Lopez (7-7, 3.55 ERA) hopes to emulate as Miami aims for the sweep. Lopez had a couple poor outings in giving up 10 ER over 7.2 IP in losses to the Mets and Cubs, but those were both on the road. Lopez bounced back with 2 ER over 5.0 IP against the Braves at home last time out.
Free August 17th Padres at Marlins Betting Preview
-154 is too much to pay on San Diego in Wednesday's series finale but roughly 80% of the betting public is still backing the Padres. The best route to take in this matchup is the total, which should continue to be on the lower side of things as it has the first two games of the series.
Free Pick: Under 7