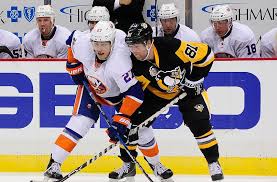 Our Penguins vs Islanders playoff preview sees this Penguins vs Islanders series as being one of the closer first-round matchups. This Penguins vs Islanders playoff preview will breakdown both teams very specifically. The New York Islanders were arguably the biggest surprise of the season. After losing their best player during free agency, the Islanders managed to secure the second best record in the Metropolitan division. They will face off against the Pittsburgh Penguins who clinched their 13th straight playoff berth.
Penguins vs Islanders Playoff Preview – Goaltending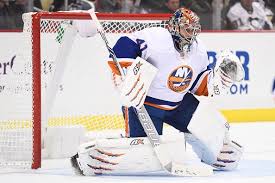 The Islanders could start either of their netminders in game one, although they are most likely to give Robin Lehner the nod. While Lehner and Thomas Greiss have almost identical stats, the former has been just slightly better.
Lehner won 25 games while maintaining a 2.13 GAA and a .930 save percentage. Greiss won 23 games with a 2.28 GAA and a .927 save percentage. No matter who coach Barry Trotz decides to start, our Penguins vs Islanders playoff preview sees that New York will have a capable backup waiting in the wings.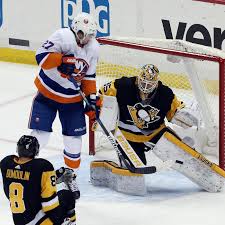 Matt Murray is the guaranteed starter for the Penguins. Murray dealt with various injuries and struggles during the early parts of the season. Through his first 13 games played Murray had an abysmal .883 save percentage and a 3.95 GAA.
He ended the season with a .919 save percentage and a 2.69 GAA. In his last 10 games he has stopped .935 percent of his shots. As a goaltender who has won two Cups before the age of 25, Murray is not someone you want to face when he is on his game. If he's focused and playing every puck, then he will be tough to beat. He could certainly be a major factor in the Guins getting to the next level of the Stanley Cup Playoffs.
Pittsburgh Penguins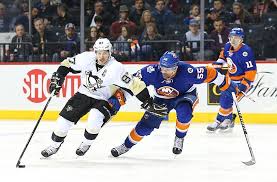 The Penguins roster has many stars. Sidney Crosby has been amazing as always. He had his first 100-point season in five years. He has developed good chemistry with Jake Guentzel. Who led the team in goals (40). Pittsburgh also has stars in Evgeni Malkin and Phil Kessel. Kessel finished with 82 points in 82 games while Malkin had 72 in 68 games. Along with their elite talent all of these players have had ample experience winning the Stanley Cup. They did a good job assembling forward depth at the deadline too. Both Jared McCann and Nick Bjugstad have been productive since moving from Florida to Pittsburgh. McCann has 11 goals and six assists in his 32 games as a Penguin while Bjugstad has 14 points in the same span.
The Pens' defensemen are solid. Our Penguins vs Islanders playoff preview notes that Kris Letang has averaged almost 26 minutes a night over the past year. He has put up 56 points in only 65 games. Brian Dumoulin is also expected to return at some point during the series. He has missed the club's last three game. He led the roster in plus-minus with a +31 rating.
New York Islanders
The Islanders roster has nowhere near the stars the Penguins have. They have relied on playing solid defense to win games. While New York allowed the least goals in the NHL, they finished 20th in goals for. In total they only had four players with 50-point years. Their leading scorer was Mathew Barzal who had only 62 points on the year. Anders Lee (28-23-51) led the club in goals while Josh Bailey (16-40-56), and Brock Nelson (25-28-53) also reached 50-points. The one spot in their lineup where they might get favorable matchups is with their fourth line. The line of Casey Cizikas, Matt Martin, and Cal Clutterbuck combined for 34 goals this year.
The Islanders' blue line also lacks the high end talent that the Penguins have. Ryan Pulock was their best defenseman. He finished with a +21 rating and 37 points. He led the team in time on ice playing 22:22 minutes per game. Nick Leddy was the only other player with over 20 minutes per game. To prevent the Penguins' stars from taking over games, the Islanders will need to continue to buy into Barry Trotz' systems even in the high pressure atmosphere of the postseason.
Penguins vs Islanders Playoff Preview
Our Penguins vs Islanders playoff preview likes Pittsburgh's chance to take the series. While the Isles own home ice advantage, the experience and star power of the Penguins will be hard to match. While Barry Trotz has been able to get the most out of his lineup this season, the playoffs are a completely different beast. We expect this series to be low scoring with the Pens' moving on to the second round.
Penguins vs Islanders Playoff Preview
Pittsburgh Penguins over the New York Islanders in 7 games