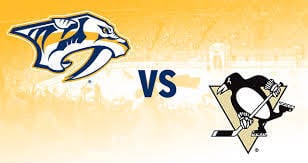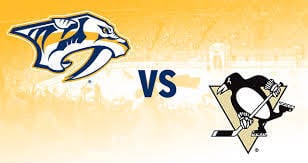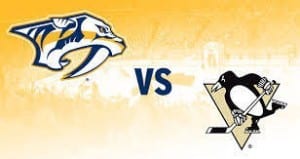 The question for game three of the Stanley Cup Finals is can Nashville finaly keep it together and, as they have done in the past, win an important playoff game at home. Home ice has been a refuge for the Predators, and they and their fans are hoping that some catfish as well as hometown support will get their team a big "W." The Predators are favored at -135, while the Penguins are at +130. The over/under is at 5.5 goals with the over at +115 and under at -135. Here is our Penguins play Nashville 2017 NHL Finals game three pick.
The Series So Far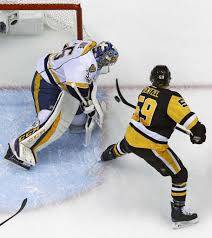 Thus far Pittsburgh has been the victor in this series taking game one 5-3 and game two 4-1. In game one, they bolted ahead 3-0 on some Nashville misplays. Then the Predators tied it up in the third 3-3. In the waning minutes, Pittsburgh scored the winning goal and then sealed the deal with an empty netter.
Rookie forward Jake Guentzel scored two goals in game two as he continued to be the hottest player in the playoffs. At this point, he has a dozen goals. That's the most of any player in these playoffs. Although Pittsburgh struggled on the power play and did little for the first two periods, goalie Matt Murray kept them in it by disallowing all but one shot. Both teams scored in the first, but it was in the third period that then Penguins exploded for three goals. That was that for game two.
Keys to Game Three
The key for Nashville is goalie Pekka Rinne who has not played well in this series. He went into the finals as the top goalie, but his game has disintegrated. In game one and in game two he saved just 84% of 25 shots. Matt Murray, in contrast, made 37 saves on 38 shots. In game one, Rinne did worse, seeing 11 shots and saving just four for a .636 save percentage. Again, Murray outperformed Rinne, turning back 23 of 26 shots for a .885 save percentage.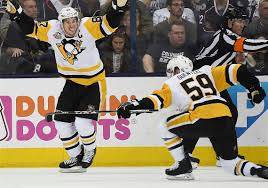 Nashville is dealing with the loss of one of their top players, Ryan Johansen. He was tops on the team in assists, second in total points, and was at +12 when he was injured in the Western Conference Finals and knocked out of the playoffs. The Predators have not found an adequate substitute. Filip Forsberg (8 G, 7 A, +15) and Colton Sissons (5 G, 3 A. +3) have struggled in this series and need to come around.
Pittsburgh's centers, has a lot of goal scorers, including three top centers. Evgeni Malkin (9 G, 17 A, +10), Sidney Crosby (7 G, 15 A, +1) and Guentzel (12 G, 7 A, +0) are essential to a Penguin victory tonight. Winger Phil Kessel, who's tops in plus/minus at +13, is also a major contributor.
Penguins Play Nashville 2017 NHL Finals Game Three Pick
What will it be? If Nashville is going to mount a comeback, this is the game in which they must do so. This game depends on Rinne and whether or not he can get back on track. I like the Penguins at +115 and under 5.5 goals at -135. Penguins play Nashville 2017 NHL Finals game three pick
Penguins Play Nashville 2017 NHL Finals Game Three Pick: Penguins at +115 and under 5.5 goals at -135