NHL Pick: Pittsburgh Penguins at Washington Capitals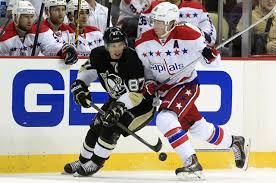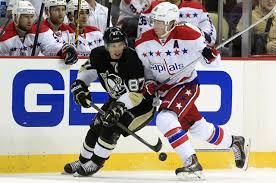 Tonight, Wednesday, May 10 at 7:30 p.m. E.T. the Pittsburgh Penguins will be at the Washington Capitals for their seventh and final games of the series. This Penguins play Capitals 2017 NHL semifinals free pick is the first of our NHL picks today. The other is for the Ducks and Oilers, which is also tied at three games each and will be played tonight at 10 p.m. E.T. This has been a surprising series in that Pittsburgh took control early on but, over time, has found itself floundering.
Washington Capitals Vs. Pittsburgh Penguins Series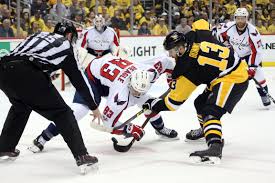 The reigning champs, the Penguins, started the series by taking two on Washington's home ice. In the first game of this semifinal series, Pittsburgh squeaked by the Caps 2-1. In the second game, the final was Penguins 6 and Capitals 2. For game three, the series moved to Pittsburgh. In that third game, the Caps won in OT 3-2. But in the following game, the home team Penguins beat the Capitals 3-2 to take a commanding 3-1 series lead. Something kicked in for Washington in the last two games, as they won 4-2 and 5-2. That gets us to tonight's game.
Penguins at Capitals Game Seven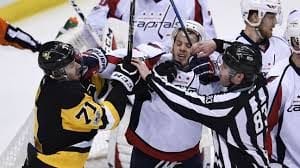 This Pittsburgh team sports an average defense while putting one of the best offenses in the NHL on the ice. In the regular season, they were ranked first in average goals scored per game and third in power play percentage. Center Evgeni Malkin (5 G, 13 A), RW Phil Kessel (5 G, 8 A) and center Sidney Crosby (4 G, 9 A), have played very well as has center Jake Guentzel who leads the team in playoff goals with nine. Goalies Marc-Andre Fleury (7-4) has a 2.78 GAA and a .921 SAV%. In game six, Fleury played horribly allowing five goals on just 26 shots. He'll have to be close to perfect to win tonight.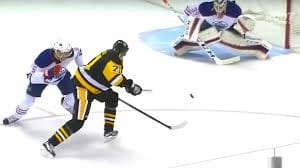 The Capitals are one of the best all-around teams in the NHL and in the last two games they have looked like the team that totaled the most points in the league, 118. In the regular season, the team was tops in goals against average, third in goals scored, third on the power play and seventh on the kill. Center Nicklas Backstrom (6 G, 7 A), RW T.J. Oshie (4 G, 8 A) and center Evgeny Kuznetsov (5 G, 5 A) have all contributed mightily. LW superstar Alex Ovechkin come to this game with three playoff goals and five assists. Goalie Braden Holtby has allowed just two goals in each of his three wins while sees 70 shots and making 64 saves.
Penguins Play Capitals 2017 NHL Semifinals Free Pick
The Caps have a history of collapsing in the playoffs and many expect them to do just that tonight. But that history has absolutely nothing to do with this team. We like the way they are playing and think that the Caps will for the second time in this series at home. Our Penguins play Capitals 2017 NHL semifinals free pick is Washington at -170.
Penguins Play Capitals 2017 NHL Semifinals Free Pick: Washington at -170