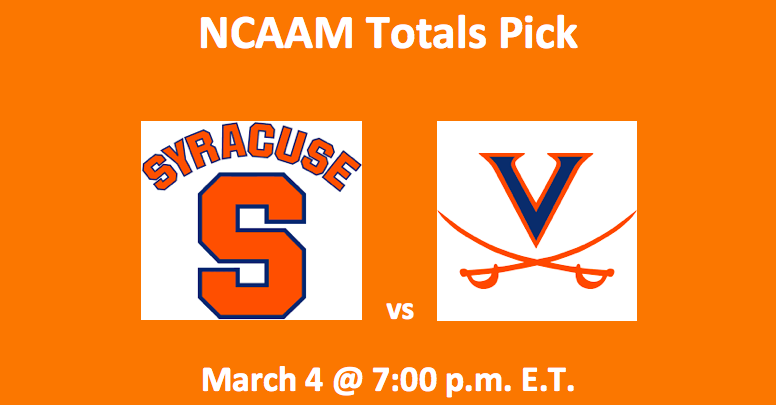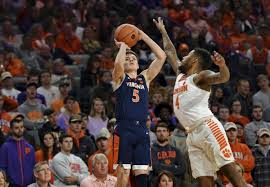 Our NCAAM Syracuse vs Virginia totals pick tips off at 7:00 pm ET tonight, March 4, 2019. As we close in on the end of college basketball's 2019 regular season and head into tournament play, we tend to see a lot of high-stakes contests because so much is on the line. Tonight, at the Carrier Dome in Syracuse, NY, there's a lot to battle for as the Syracuse Orange (19-10 Overall, 14-6 ACC) host the #2 Virginia Cavaliers (26-2 Overall, 14-2 ACC).
Syracuse is sixth in the ACC, just one game behind Virginia Tech and Florida State. Virginia is in a tie for first with North Carolina. Virginia wants to keep its national ranking, while a Syracuse win could help them when it comes to getting an invite to the Big Dance and seeding. We think motivation could be a key factor in this game in terms of how many points are put on the board. And there's certainly motivation for these teams to perform well. Our Syracuse vs Virginia totals pick has the over/under at 122.5 or 123.0. Here's how we see it playing out.
Offensive and Defensive Stats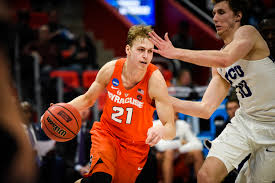 Both teams are averaging just over 70 points per game. However, the skinny in this contest will not be offense but, rather, defense. The Cavs are allowing on average just 54.1 PPG and the Orange are giving up 64.8. Syracuse has struggled this season when playing against a top-ranked team that also features solid D. More often than not, the Orange have scored between 56 and 62 points in such situations. At the same time, opponents have been able to score 70 or more points against them.
With the over/under at 122.5, even if the Cavaliers do stifle the Syracuse offense, the over looks promising. Syracuse should be able to put 56 points (minimum) on the scoreboard, and we expect the Cavaliers to pop in at least 70. That's a total of 126. Considering these stats in our Syracuse vs Virginia totals pick, we like the over.
Edge: Over
Home vs Away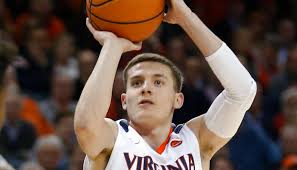 We can't help but note that the Cavaliers have had a tough time scoring on the road. That is true especially as of late. They've tended to put up about three fewer points when away, averaging around 68 PPG. The Orange have often scored approximately 70 PPG on their home court. This has been a trend throughout much of the season for Syracuse, especially in conference play.
Again, in our Syracuse vs Virginia totals pick, we like the over here. It looks to be virtually inevitable.
Edge: Over
Five Keys to Syracuse vs Virginia Totals
Both teams are motivated to score
We look for recent and season-long point trends to continue in this game
Syracuse's top scorers, Battle, Hughes, and Brissett, have been consistent
Hunter, Guy, and Jerome offer double-digit scoring for Cavaliers
Last four or five games between these two teams, it's been the over
Edge: Over
Our Totals Pick
Our Syracuse vs Virginia totals pick us definitely the over. At 122.5, it's hard to imagine these two teams not surpassing the over by at least a good 10 points. Look for both clubs to be going to the basket a lot and pushing point totals. We expect a lot of scoring tonight.
Summary Syracuse vs Virginia Totals – Over 122.5