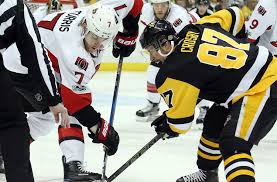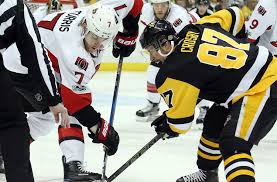 The media frenzy is very interesting on this game. It seems as if everyone is giving the Pittsburgh Penguins the win against the Ottawa Senators tonight. Game seven of the Stanley Cup Eastern Conference Finals will face off tonight in Pittsburgh at 8:00 p.m. E.T. The media have donated plenty of bulletin board material to the Senators, as they have looked forward to canonizing Sydney Crosby and the Penguins. That is the media will do so if Pittsburgh does win and then they go on to defend their 2016 Stanley Cup title. At this point, our Ottawa plays Pittsburgh NHL pick moneyline odds have the Penguins at -192 and the Senators at +178. The totals bet of 5.0 goals is -115 over and +108 under. The game still has to be played.
Ottawa Senators and Pittsburgh Penguins Series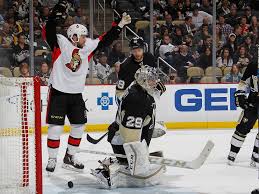 Four of the games in this series have been decided by one goal and Ottawa has won two of those one-goal games and Pittsburgh the other two. The Penguins did blowout the Senators in game five by a score of 7-0, while Ottawa handed Pittsburgh a 5-1 loss in game three. In the series, Ottawa has scored 11 goals, as has Pittsburgh. That stat is one of the oddest of this series, as the Penguins were tops in average goals scored during the season, posting a 3.4 mark, while the Senators were 22nd in that category, averaging 2.6 goals per game. In this series, neither team is close to their average, as both are averaging 1.83 goals per game, but it's clear that Pittsburgh is way off.
Ottawa plays Pittsburgh Game Seven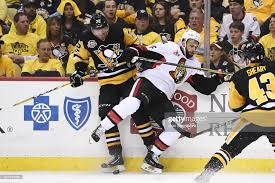 This game will be more of the same, as the Senators set their trap defense, trying to slow down and disrupt Pittsburgh's fast and furious attack. The Senators will play a very physical game, looking for opportunities to exploit. Ottawa is a very good third period team, while Pittsburgh excels when it can establish its offense early with a consistent attack. If the Senators keep this a one-goal game going into the third period, they'll have a shot at winning the series.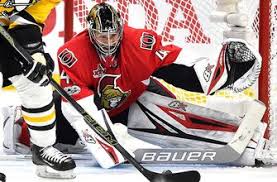 In game six, Ottawa goalie Craig Anderson saw 46 shots. He turned away 45 in what was a truly spectacular performance. For Pittsburgh, Matt Murray saw 28 shots, a few less than Ottawa would have liked to have thrown at him, and he saved 26 in the Penguins' 2-1 game-six loss.
Ottawa Plays Pittsburgh NHL Pick Moneyline Odds
The Senators are 0-7 in game sevens, while the Penguins are 3-7 in game sevens played at home. But none of that matters very much. Here's the way this contest looks. The Penguins have a fast, killer offense. If they go up by two goals or more in the first two periods, they will probably win. The Senators are definitely much weaker on offense, but this team has nothing to lose tonight. They were 30-1 to win the Cup and everyone expected them to be eliminated eons ago. (By the way, the Nashville Predators were also 30-1 to win the Cup.)
The Senators have a hot goalie, and he has survived a lot of tough situations. That can go a long way tonight. We're going against the trend and with our Ottawa plays Pittsburgh NHL pick moneyline odds taking the Senators at +178 and the under at +108.
Ottawa Plays Pittsburgh NHL Pick Moneyline Odds: Senators at +178 and under 5.0 at +108