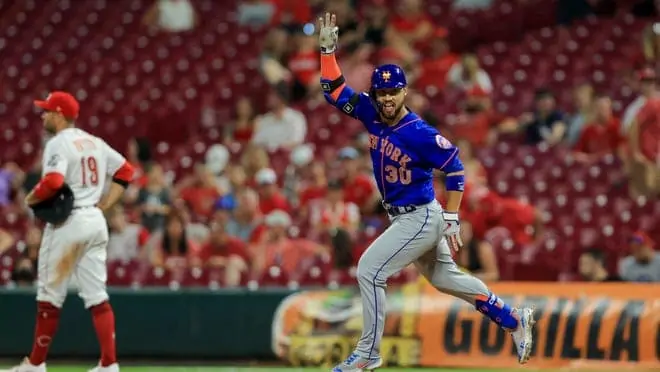 It's a series wrap up in the July 21st Mets at Reds contest with both teams taking a game so far. It's been a tale of two games so far, with New York holding on for a 15-11 win on Monday as +101 underdogs but Cincinnati evening things up on Tuesday with a 4-3 win as -147 favorites.
The Reds had lost four straight prior to Tuesday's win, and are +136 underdogs with Jeff Hoffman (3-4, 4.61 ERA) getting the start. New York is priced at -136 behind Marcus Stroman (6-8, 2.78 ERA) who hasn't picked up a win since June 12th. Oddsmakers are also expecting some runs with a 10.5 total.
Rebound Game for Mets?
The New York offense disappeared on Tuesday, being held to just 1 ER over 6.1 IP against Reds starter Wade Miley. The game two loss was quite a contrast from Monday's game in which the Mets hit a season high 7 HRs. Pete Alonso did go long in Tuesday's loss however, his second in as many days at Great American Ballpark.
The Mets have now lost 3 of 5 since returning from the all-star break, but their offense is clicking with 7+ runs in 3 of the last 4. Michael Conforto has also been hot with 3 HRs in the last 5 games. New York doesn't have a ton of experience against Cincinnati starter Hoffman (9-32 as a team) but Alonso and Jeff McNeil have both gone deep vs. the right-hander in limited ABs.
Stroman has a sub 3 ERA, but for whatever reason the Mets are 1-5 in his last 6 starts. Stroman has allowed 2 ER or less in 6 of his last 8 outings, and has only given up 1 HR in his last six games. Stroman is 3-4 with a 2.91 ERA in 10 road starts this season, but also has a 3.44 ERA in 10 day starts compared to 2.05 at night. The July 21st Mets at Reds contest has a 12:35 ET first pitch.
Reds Look For Series Win
Cincinnati got a huge outing from Miley on Tuesday, especially since they used 7 relievers in Monday's loss. The victory was the first for the Reds since returning from the all-star break after the Brewers took all three at Great American Ballpark over the weekend while plating 26 runs.
The Cincinnati offense has a tough go of it against Stroman on Wednesday, and are 14-49 (.286) as a team vs. the Mets starter. Tyler Naquin has gone 8-14 (.571) vs. Stroman, but Nick Castellanos and Joey Votto are a combined 3-22 vs. the right-hander.
Tuesday's win was a huge confidence builder for Cincinnati's pitching staff as they had allowed 41 runs in the first four games back from the all-star break. It's up to Hoffman to string together another solid outing from a Reds starter after Miley pitched into the 7th in game 2. Hoffman hasn't pitched into the 6th in any of his last six starts, and has struggled with command giving up 7 BBs in his last two starts. The good news is that he's only allowed 3 ER in those outings, but in just 9.0 IP.
Free July 21st Mets at Reds Play
The Mets haven't been able to find much success with Stroman on the mound recently, but they still have the better pitching matchup on Wednesday. The Reds bullpen is running a bit ragged after some heavy usage lately, which doesn't bode well when Hoffman is going to labor to maybe give you 80 pitches.
Mets 7 – Reds 4
Free Pick: Mets -136