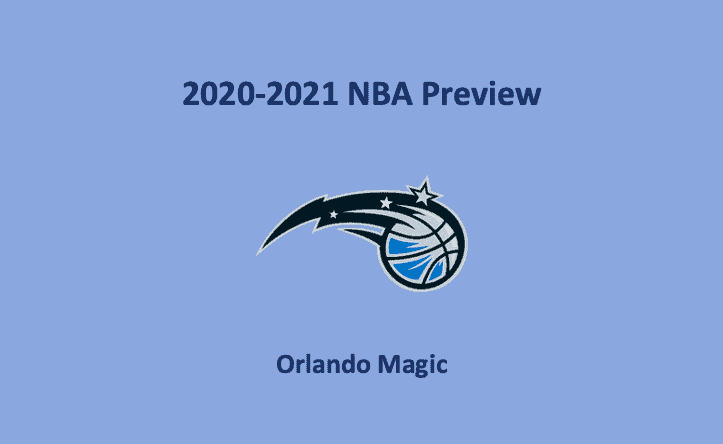 Our Orlando Magic preview 2020 – 2021 notes that this team was one of two that made it to the playoffs with a losing record. The Magic (33-40) finished second to the Miami Heat in the Southeast Division. They were a full 11 games from the top spot. In the regular season, Orlando lost their series with Miami three games to one. The Orlando Magic earned the eighth and final seed in the Eastern Conference playoffs. However, the regular season did not end well for this team, as in their final six games of the season, the Magic went 1-5. They met the Milwaukee Bucks in round one of the playoffs, losing that series four games to one. It was an up and down season for this team, which struggled to find continuity. Consequently, Orlando could not meet the challenges they faced in the playoffs.
Orlando Magic Preview 2020 – 2021 – Stats
The Magic averaged 107.4 PPG (24th), 44.5 RPG (16th), and 44.4 FG% (27th). The team recorded 23.9 APG (18TH). On defense, they made 8.2 SPG (8TH) and 5.4 BPG (8th). Turnovers were minimal at 12.2 per game. The Magic ranked second in that category. They allowed opponents 108.3 PPG (5th). That solid defense helped keep their PF/PA negative differential low at -1.0 (16th).
Opponent shooting percentages were 46.5 FG% (18th) and 36.4 3PT% (23rd), while the Magic saw opponents grab 44.9 RPG (14th). Opponents garnered 24.7 APG (17th), 4.6 SPG (5th), and 4.6 BPG (12th). Although Orlando had a negative differential on assists, it was negligible, while they were on the plus side in steals (+3.6) and blocks (+0.8). In turnovers, the Magic were -1.8, ranking 27th.
Orlando Roster
The backcourt is quite fine. However, the frontcourt has a major question mark. Small forward is a concern on this team. Is James Ennis up to playing in that spot as a starter? Plus, last season his three-point success rate was abysmal. Power forward Aaron Gordon and center Nikola Vucevic both have a lot to offer. They're consistent producers. Like the starting backcourt, the backup guards bring some fine two-way potential to the court. There are issues with the guys coming off the bench to sub in the paint and around the rim.
Orlando Magic Preview – Backcourt
Three-year point guard Markelle Fultz came to the Magic last year. In the 2019-2020 season, he averaged 12.1 PPG, 5.1 APG, and 1.3 SPG. Although he shot 46.5% from the floor, Fultz struggled from downtown, completing just 26.7% of his threes. Fultz is a solid ball handler and playmaker. Shooting guard Evan Fournier has spent six of his eight NBA seasons with Orlando. Last season was one of his best as he averaged 18.5 PPG, 3.6 APG, and 1.1 SPG. Fournier shot 46.7% from the floor, 39.9% from the arc, and 81.8% from the free-throw line. He's another sound ball handler.
Magic Preview – Frontcourt
The starting trio in front is small forward James Ennis III (Day-to-Day), power forward Aaron Gordon, and center Nikola Vucevic. Ennis, who is day-to-day due to a sore toe, is a much-travelled player. In six seasons, he's been on eight different teams. This is his first full season with the Magic. Ennis, who has never been a full-time starter, appeared in 49 games with the 76ers and 20 with the Magic last year. With Orlando, he started 18 of 20 games averaging 24.5 MPG. He was good for 8.5 PPG and 4.8 RPG while shooting 45.1% from the floor. His three-point success rate was just 28.6%.
A six-year Magic power forward, Gordon has been a consistent starter for the past four seasons. Last year, he averaged 14.4 PPG, 7.7 RPG, and 3.7 APG. Averaging 32.5 MPG, he hit 43.7% from the floor and 30.8 from the arc. Our Orlando Magic preview 2020 – 2021 observes that center Nikola Vucevic is a solid double-double performer. Last season, he was good for 19.6 PPG, 10.9 RPG, and 3.6 APG. He completed 47.7% of his field goals and 33.9% of his threes.
Magic Bench
Cole Anthony and Michael Carter-Williams back up the point with Carter-Williams also coming in to man the two-spot. The other man at shooting guard, Terrence Ross (Day-to-Day), also comes in to play small forward. Additionally, Dwayne Bacon rotates in as small forward.
Anthony, who was the 15th overall pick in this year's draft, played one season with UNC. In that time, he averaged 18.5 PPG, 5.7 RPG, 4.0 APG, and 1.3 SPG. He is a solid two-way player. With UNC, his field-goal completion rate was 38.0%, and his three-point mark was 34.8%. Consequently, expect to see him get numerous minutes at the point. SG/SF Carter-Williams is in his eighth NBA season. Last year, he averaged 18.5 MPG, recording 7.2 PPG, 2.4 APG, 3.3 RPG, and 1.1 SPG.
Frontcourt Bench
Guard/forward Ross, who is dealing with a non-displaced, hairline fracture in his left big toe, averaged 24.7 MPG, recording 14.7 PPG while shooting 40.3% from the floor and 35.1% from the arc. He also grabbed 3.2 RPG. SF Bacon, who plays his first season with the Magic after spending his initial three NBA seasons with the Charlotte Hornets, averaged 16.0 MPG and 5.7 PPG with the Hornets.
The power position is manned by Chuma Okeke and Al-Farouq Aminu (Out). Okeke, a first-round pick in 2019, has not yet played in an NBA game due to a two-year stint rehabbing his torn ACL. He'll have an opportunity to contribute this year. In two college seasons, the Auburn forward averaged 9.9 PPG, 6.3 RPG, 1.3 SPG, and 1.0 BPG. Aminu, the other backup power forward, has been dealing with a right knee issue and recently underwent a minor arthroscopic procedure. He's expected to be back at some point this season. The 10-year vet, who's a fine defender, returns for his second season with Orlando. Last year, he averaged 4.3 PPG, 4.8 RPG, and 1.0 SPG over 21.1 MPG.
Meanwhile, Khem Birch and Mo Bamba (Day-to-Day) backup the center position. Last year, in his third NBA season, Birch was good for 19.2 MPG, 4.4 PPG, and 4.6 RPG. His field-goal completion rate was 51.0%. Bamba, who last season had issues with a serious stress fracture to his left leg, is presently out after contracting COVID-19 this summer. Although recovered, he is dealing with ongoing-issues associated with the virus. Bamba, who's played two NBA seasons, both with the Magic, has averaged 15.1 MPG, 5.7 PPG, 4.6 RPG, and 1.4 BPG.
Orlando Magic Preview 2020 – 2021 – Coaching
Our Orlando Magic preview 2020 – 2021 notes that head coach Steve Clifford spent 15 years in the high school and college coaching ranks. In 2000, he became an advance scout for the Knicks, and the next year, he was a New York assistant. In 2013, Clifford became the head coach for Charlotte. In April 2018, the Hornets fired Clifford after he guided a team to a 196-214 record. He then became the coach of the Magic. His record in his two seasons with Orlando is 75-80. In his initial year at the helm in Orlando, the Magic finished first in the division and the next year, they were second. Both times, the team made it into the playoffs, and each time they were eliminated in the first round by a 4-1 margin.
Clifford focuses on the basics, and he starts with defense. There are a lot of drills designed to get specific plays in each player's physical memory. He works shell, close-out, transition, pick-and-roll, individual post-up and team post-up drills. Each one focuses on developing fundamental playing habits. The Magic certainly have the defensive aspects of the game down. If they can create more offense, Orlando could rule the conference.
Orlando – Pluses and Minuses
Fine defense
Overall good ball control
Backcourt has good upside
Need to generate more points
Must win more battles on the boards
Frontcourt comes with question marks and challenges
Orlando Magic Preview 2020 – 2021 – Final Word
This team brings a fine defense to the floor, and there is offensive potential. We think that this season, the Magic will do a much better job of realizing that potential. Our Orlando Magic preview 2020 – 2021 does note that this basketball team has question marks at small forward. If Ennis can find a home in Orlando, get healthy, and become a viable starter, this team will excel. If he cannot do that, they may have a difficult time playing consistently sound basketball.
Orlando Magic Projection – 40-32 Second-Place, Southeast Division