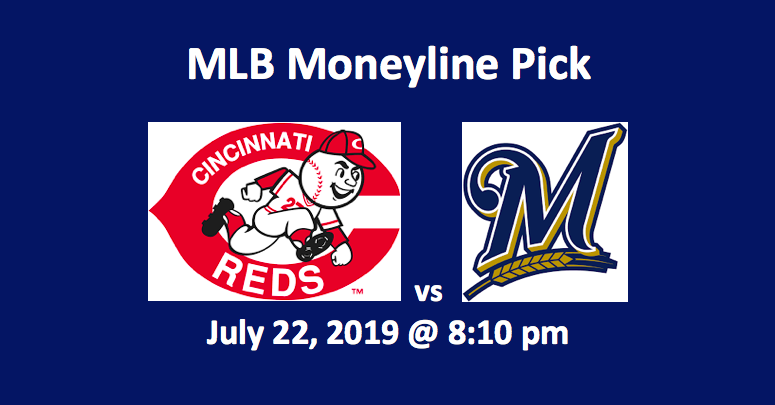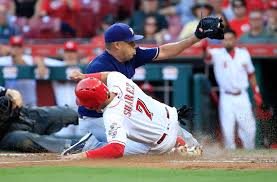 Our Cincinnati Reds vs Milwaukee Brewers moneyline pick examines the outcome between NL Central rivals. This Cincinnati Reds vs Milwaukee Brewers meeting will be the fifth series between the clubs this season with first pitch is set for Monday, July 22, 2019 at 8:10 pm ET at Miller Park. Milwaulkee is 7-6 against the Reds in 2019. Despite this, Cincinnati comes in with a three-game win streak against the Brewers. Milwaukee currently sits in second place in the NL Central while the Reds are last. Seven games separate the two clubs. Our Cincinnati Reds vs Milwaukee Brewers moneyline prediction sees pitcher Sonny Gray's recent performances and the Brewers recent offensive thrust as being influences in this game.
Cincinnati Reds vs Milwaukee Brewers Moneyline – Pitching Matchup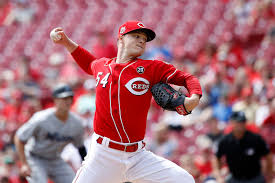 Sonny Gray will start for the visiting Reds. Gray is having a bounce back year compared to 2018. In 2018, Gray went 11-9 with a 4.90 ERA. This season he holds a 5-6 record with a 3.40 ERA with a couple of games being lost due to a lack of run support. Gray has looked very good in his last few outings. In his three starts this month, Gray has allowed just three runs in 21 innings. This includes an eight-inning shutout effort against the Brewers where he fanned 12 batters. In 2019, Gray has pitched a combined 18-and-one-third-innings against Milwalkee. He has allowed four total runs in that span while striking out 27 batters.
Chase Anderson will make his 15th start of the season on Monday. He is 5-2 on the year with one of his two losses coming in the last series between these clubs. He has a 3.96 ERA on the season but has allowed eight runs in 10.2 innings against Cincinnati. Anderson comes into this game after arguably his best outing of the year. He went five-and-two-thirds innings against a strong Braves team, as he allowed just one hit. For the Brewers to be able to handle the Reds, Milwaukee will need Anderson to be effective with his fastball and changeup.
Reds Struggle to Put Up Runs, Brewers Don't
Cincinnati is among the bottom teams in the league in terms of run production. While they rank 12th over the past week, it is almost solely because of a single 11-run effort three games ago. They have put up four or less runs in four of their last five games. Most of the Reds batters have been either amazing or abysmal recently. Of Cincinnati batters with at least 10 at bats in the last week, three have OPS percentages of over 1.000. Three have OPS percentages of less than .500 in the same span. Derek Dietrich (.824), Eugenio Suarez (1.156), and Jose Peraza (.750) have all been solid recently. Joey Votto (.523) and Scooter Gennett (.396) have struggled.
In contrast to Cincinnati's offensive woes, the Brewers have scored at least five runs in each of their last five contests. MVP candidate Christian Yelich has continued to be effective. He is batting .435 in his last six games while hitting four homers. Ryan Braun, Keston Hiura, and Mike Moustakas have also been very productive recently. Hiura has driven in eight runs and gotten 15 hits in his last 29 at bats. In the last week, Braun and Moustakas have four and six RBI respectively. They have .368 and .320 averages as well in this span.
Cincinnati Reds vs Milwaukee Brewers Moneyline: Summary
Our Cincinnati Reds vs Milwaukee Brewers moneyline notes that Milwaukee and Cincinnati have virtually split the season series. The Reds come in with a three-game win streak against the Brewers. They also have Sonny Gray coming into the matchup on a streak of four solid starts. Cincinnati's biggest struggle this season has been their inability to score runs. They have wasted a couple of Gray's recent starts due to this. The Brewers meanwhile have been blasting the ball. They have the most homers in the last week. While we like that the Reds have Gray taking the mound, their offensive performances recently make it look like they may waste another solid start from the right-hander.
Cincinnati Reds vs Milwaukee Brewers Moneyline: Prediction
Milwaukee Brewers Moneyline (-111)