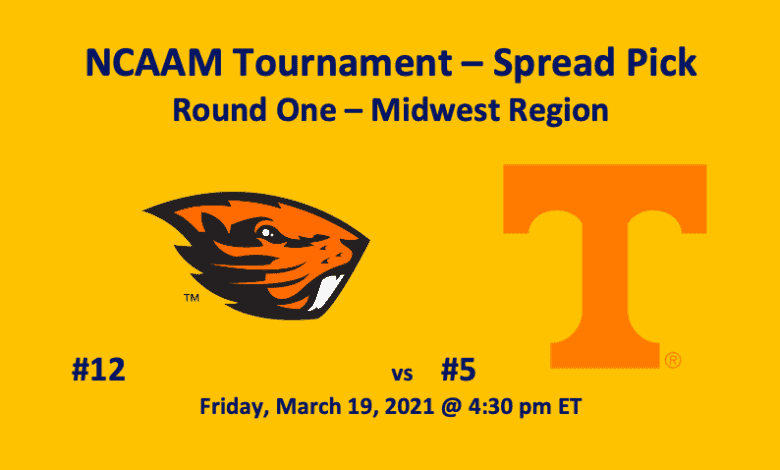 Our Oregon State vs Tennessee pick and analysis is for one of eight First Round Midwest Region games being played in the 2021 NCAA Men's Tournament. The Volunteers are favored and listed at -8.5 (-105), while the Beavers are +8.5 (-102). In the regular season, Oregon State tied for sixth place in the Pac-12, and in the conference final, they took down the Colorado Buffaloes 70-68 for the tourney title. Over their last five games, the Beavers are 4-1. The Tennessee Volunteers, who've won just two of their last five matchups, were fourth in the Southeastern Conference. In the SEC Semifinals, the Volunteers lost to the Alabama Crimson Tide 68-73. The Beavers and Volunteers will meet on Friday, March 19 at 4:30 pm ET. The game will be held at Bankers Life Fieldhouse in Indianapolis, IN. Also, see our Syracuse vs San Diego State prediction for today.
Oregon State vs Tennessee Pick – Stats
Statistically, these two teams matchup closely. The Beavers are averaging 70.7 PPG, 33.7 RPG, and 14.7 APG. The Volunteers matching stats are 72.5/36.0/15.0. When it comes to shooting stats, these two teams are within a percentage point of one another, as they're completing approximately 44% of their field goals, 34% of their threes, and 74% of their frees. Turnovers come in at 11.3 for the Beavers and 12.5 for the Vols. Tennessee is putting up 7.2 SPG and 4.9 BPG, while Oregon State is recoding 6.1 SPG and 3.3 BPG.
Key Players
In the backcourt for the Beavers, Ethan Thompson is scoring 15.3 PPG and dishing off 3.9 APG. Guard Jarod Lucas is good for 12.9 PPG. Also, guard Zach Reichle is recording 7.6 PPG, 3.1 RPG, and 2.9 APG. In the paint, forward Warith Alatishe, a 52.9% field goal shooter, is averaging 9.9 PPG. He leads the team with 8.5 RPG. He's also good for 1.4 BPG and 1.2 SPG.
The Vols bring a deep squad to the court that includes three very productive guards. Jaden Springer is putting up 12.5 PPG, and Keon Johnson is averaging 11.2 PPG. Also, Victor Bailey Jr., another double-digit scorer, is good for 11.0 PPG. The trio of guards are solid on ball movement, combining for 7.0 APG. They're also averaging 8.9 RPG. Forward John Fulkerson, a 52.7% shooter, is averaging 9.5 PPG and 5.5 RPG.
Oregon State vs Tennessee Pick – Final Thoughts
This Oregon State vs Tennessee pick projects that this will be a close game. Although we find that Tennessee is deeper and a bit better, we do believe that the Beavers will be able to keep up with them. With that in mind, we're picking the Oregon State Beavers +8.5 (-102).
#12 Oregon State Beavers vs #5 Tennessee Volunteers
Oregon State Beavers +8.5 (-102)