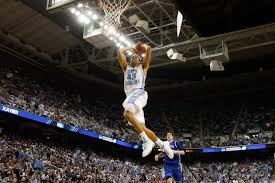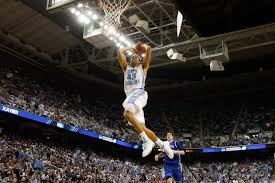 The second 2017 March Madness Final Four game that will be played on Saturday features the #3 Oregon Ducks at the #1 North Carolina Tar Heels. The Ducks will face their second number one seed in a row as they beat the Kansas Jayhawks in their Elite Eight matchup 74-60. The Tar Heels made it to the Final Four by nudging the #2 Kentucky Wildcats 75-73. Our Oregon plays North Carolina 2017 Final Four free pick shows the Tar Heels as the favorite at -5.0 and the over/under at 152.0.
The Ducks initial round gave them the opportunity to flex their muscles and they did just that beating #14 Iona 93-77. In round two, Oregon got by a touch #11 Rhode Island Rams club 75-72. They got to the Elite Eight by barely beating the #7 Michigan Wolverines 69-68. This is the first time in over 80 years that Oregon has made it to the Final Four. The last time they made it this far, they ended up in the fin al game and won it all. That was in 1939, the first year of the tournament.
In the first round, the North Carolina Tar Heels took on the #16 Texas Southern Tigers, beating them 103-64. In round two, they easily took down the #8 Arkansas Razorbacks 72-65. In the Sweet 16, the Tar Heels then faced the #4 Butler Bulldogs, winning 92-80. North Carolina, which has been in the Final Four a total of 20 times, found itself in this position in 2016.
#3 Oregon Ducks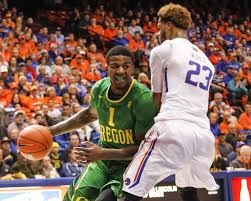 Despite playing without big man Chris Boucher, who tore his ACL in the PAC-12 tournament, the Oregon Ducks have played well. They've done so by using almost exclusively a six-man rotation. Since losing Broucher (11.8 PPG, 6.1 RPG) inside, Oregon has often utilized 6-foot-7 forward Dillon Brooks (16.3 PPG) as a power forward, putting him alongside 6-9 center Jordan Bell (10.9 PPG, 8.6 RPG). Bell is hitting over 60% of his shots.
In beating first seed Kansas, Bell notched 11 points, grabbed 13 rebounds and blocked eight shots. Other important players in this game include guard Tyler Dorsey (14.5 PPG, 3.4 RPG) and guard Dylan Ennis (10.7 PPG, 4.4 RPG, 3.1 APG), a solid all-around player. Dorsey has scored a minimum of 20 points in seven consecutive games. When it comes down to setting the tone for the game coach Dana Altman looks to Jordan to get the job done.
"I can't overemphasize Jordan controlling the paint in the first 10 minutes of the game and just putting a thought in their mind that they were not going to get easy baskets," the Ducks coach said.
#1 North Carolina Tar Heels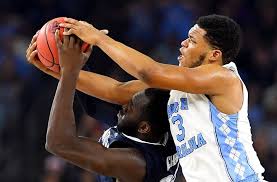 The Tar Heels are the best rebounding team in college basketball. They're averaging 44 RPG, which gives them eight more on average than the Ducks. Also, UNC is grabbing close to 42% of their missed shots. The Tar Heels also have the best rebounding margin in college basketball, coming in at +13.
Look for low-post man Kennedy Meeks, who against the Kentucky Wildcats took down 13 rebounds and blocked four shots, to be a major factor in this game. He's averaging 12.3 PPG and 9.3 RPG. All American forward Justin Jackson, with a team-leading 18.2 PPG, will also be important. Isaiah Hicks and Tom Bradley account for close to 11 RPG. There's concern on North Carolina's part for Joel Berry II, as the 14.6 PPG shooter is dealing with two ankles that are hobbling him.
"We feel like it's extremely important to get the other team in foul trouble," Tar Hells' coach Roy Williams noted. "The biggest way to get their big guys in foul trouble is to go inside. That's something that's been important for us ever since I started coaching, and I still believe that."
Oregon Plays North Carolina 2017 Final Four Free Pick
The Oregon Ducks will be challenged under the basket and especially when it comes to offensive rebounding. With their thinned ranks, the Ducks may tire in the second-half. UNC brings an accomplished team to the court. Our Oregon plays North Carolina 2017 Final Four free pick is UNC ay -5.0 and the under at 152.0
The game will be played at 8:49 p.m. at the University of Phoenix Stadium. It will be covered by CBS/
Oregon Plays North Carolina 2017 Final Four Free Pick: North Carolina at -5.0 and under 152.0.