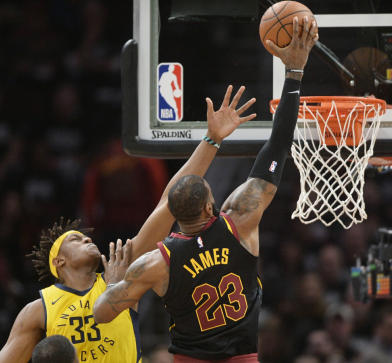 The Indiana Pacers have proven they're not gonna 'bow to the king' so far in their first round playoff series with the Cavaliers. Indiana scored a huge game 1 win 98-80 and had their chances to go up 2-0 in falling 97-100 in game two. Then again, the Cavs were up by as much as 18 points on Wednesday night and Lebron James made a statement that the rest of the series is going to be his by putting up 46 points and grabbing 12 rebounds. Does Indiana have an advantage coming back home, or should they be worried that Lebron is coming for them?
Cavaliers Playing In Front of a Hostile Crowd Friday Night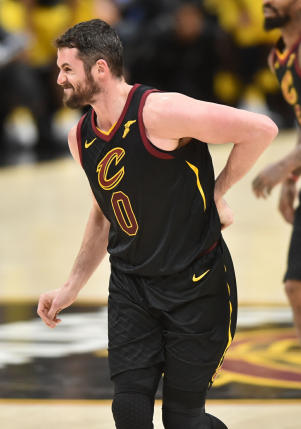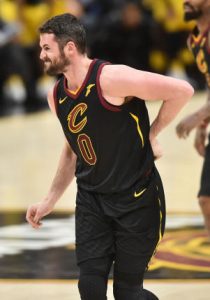 Lebron James is either the most loved hoops player in the world – or the most hated – depending on the venue. He can bet that the latter is going to be true when the Cavs head to Bankers Life Fieldhouse for Game 3. Aside from his huge effort last game, James posted a triple double in Game 1. The thing is, his stellar performance isn't turning into wins for the Cavs. Can Lebron find some help in his supporting cast? Speaking of cast, is Kevin Love's injured thumb going to prevent him from playing at a peak level in the 4/20 NBA free pick? Nobody on the Cavs besides James has scored more than 15 points through games 1 and 2.
Another big question is how will Cleveland fare traveling to Indiana tonight? It's true that the Cavs were the 1st team in NBA history to come back from a 25 point deficit win in Game 3 of the 2017 playoffs here last year. The also swept the Pacers in last year's first round despite giving up 100 points in each game, the first time that's happened since 1995. That being said, Cleveland is just 2-14 in their last 16 trips to Banker's Life dating back to 2010. The Cavs also lost both games in Indiana this season, albeit by a combined 6 points. Cleveland can expect an especially riled up road fandom tonight.
Is It Indiana's Time?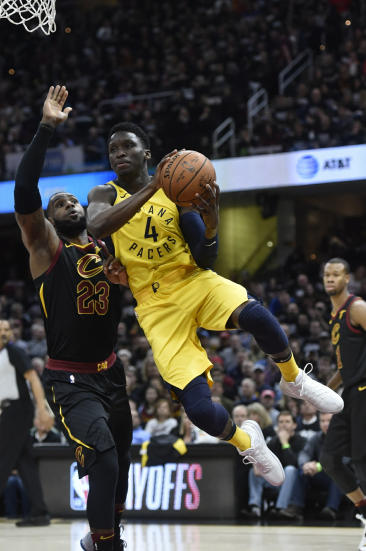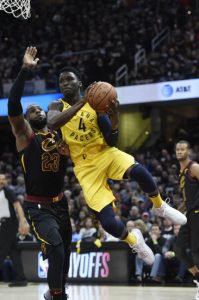 Everybody knew the Cavs had some vulnerabilities this season and Indiana +250 for the series isn't that far fetched of a wager. Yes the Pacers were swept by Cleveland a year ago, but this is a different Indiana team most notably with the addition of Victor Oladipo. The Pacers supposedly lost the Paul George trade, but Oladipo has been stellar all season in returning to the state where he played his college ball at Indiana. That stellar play has continued into the postseason where the guard fueled the game one upset with 32 points and then added another 22 in a close game 2 loss.
The Pacers are far from a one man team and they'll rely on that balance in the 4/20 NBA free pick. Myles Turner has been a strong presence against an undersized Cavs front line as he's averaged 17.0 ppg so far in the series. Darren Collison has a 16 point game in the series and Bojan Bogdanovic had 15 in game 1. Even #1 professional Lebron troll Lance Stephenson has averaged 11 points per game off the bench and he could be the emotional lift that the Pacers need to take the 2-1 series lead.
4/20 NBA Free Pick Betting
Oddsmakers are expecting a close one as they've set the Pacers at -1 for Friday night's game. Nobody could blame you for taking Cleveland and the best basketball player in the world when all they have to do is win outright. That being said, something has just seemed a little off about this Cavaliers team the whole year. Indiana's game 1 win gave legitimacy to their chances of winning this series and the home crowd should feed off that. Then again, nobody is harder on the Cavs then their own fans so they might actually be happy to be on the road. Either way, Indiana might actually be the better team in this series and when you put the home crowd behind them they should get the W tonight.
Free Pick: Indiana Pacers -1