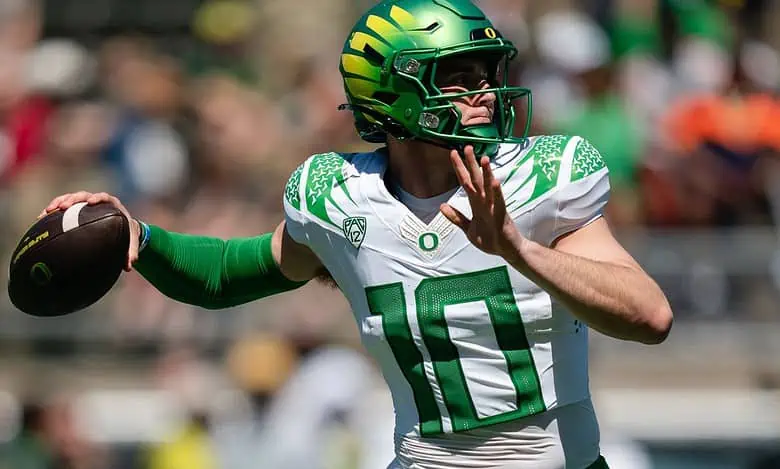 The Pac-12 Conference title race is one of the best in the country, and there is a big game set to take place this weekend. The Oregon Ducks are set to visit the Utah Utes on Saturday afternoon, and the losing team is going to suffer a critical hit to their title chances.
Oregon is coming into this game with a record of 6-1 and the remain inside of the Top 10 in the most recent poll. The lone loss for the Ducks came against the Washington Huskies in a thriller, and there is still time for this team to get back in the race.
Utah has also gone 6-1 through their first seven games, and they have been able to get it done without their best player all season long. The Utes are still not getting a ton of respect heading into this matchup, but that would change with a win over Oregon.
The Oregon Ducks are 6.5-point betting favorites over the Utah Utes in this Pac-12 Conference showdown.
Oregon Offense is Elite
The Oregon Ducks are coming into this game, averaging 553 yards of total offense per game, and they have incredible balance. While every team wants to run the ball, Oregon has delivered by averaging 227 yards per game on the ground.
Quarterback Bo Nix is having his best season in college football, as he has thrown for 2,089 yards and 19 touchdowns this season. Oregon will try to establish the run in this game, but Nix is going to be a key in this one.
The Ducks have also done a great job on defense this season, as they are allowing just 95 rushing yards per game.
Utah Doing it With Defense
Utah is going to try to win this game with defense, and they are allowing less than 300 yards per game this season. The Utes have given up just 78 yards per game on the ground, and that has allowed them to slow down opponents.
Scoring points has been a challenge at times for this team, and it's due to the fact that they continue to play without Cameron Rising at quarterback. Bryson Barnes will be the man under center on Saturday, and he just had a great game against USC.
Utah is not going to be able to win this game if it turns into a shootout, and they will be doing all that they can to shut down the Ducks in this game.
Ducks Dominate the Utes
The fact that Utah is playing at home is going to give them a big advantage in this game, but that might be the only edge that they have. Utah has been a good defensive team this season, but they won't have what it takes to slow down Oregon.
The Ducks were just a play or two away from being undefeated through the first seven games, and they are on a mission to avenge that loss. Bo Nix and that Oregon offense is going to have a huge game in this one to create some separation.
Bet on the Oregon Ducks to not only win this game but to also cover the 6.5-point betting spread.