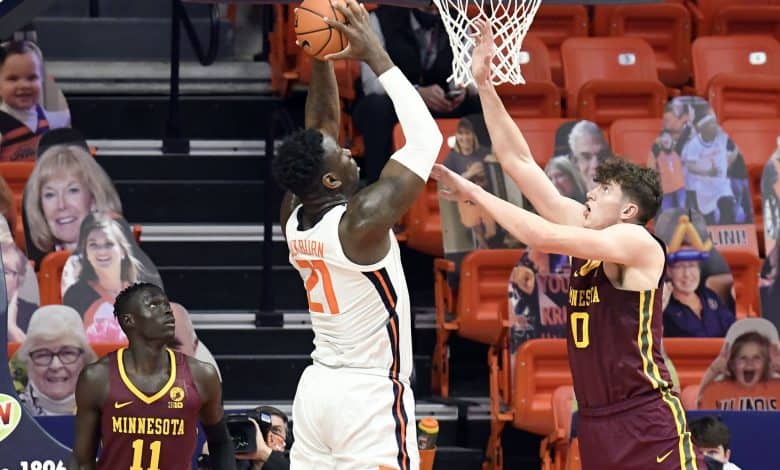 A couple of teams that may be a bit rusty meet up in the January 4th Illinois at Minnesota betting matchup. Both the Fighting Illini and Golden Gophers have been off since December 22nd, taking some extended time not only for a Christmas break but also due to COVID protocols. These two squads were originally set to meet up on Sunday but a COVID outbreak through the Illinois locker room caused a postponement.
Minnesota is a +7 point underdog in Tuesday's matchup, but they're 5-1 at home on the year and already have a win on the road against Michigan as part of their conference resume. The Fighting Illini looked real good in an 88-63 victory over Missouri in their last game, but that was also almost two weeks ago.
Illinois Set to Get Back In It
The Fighting Illini had posted two of their better games of the season prior to having a nearly two week break, scoring a season high 106 points in a dominant win over St. Francis (PA) and then taking the annual Braggin' Rights Game with a 25-point victory over Missouri.
Kofi Cockburn and Alfonso Plummer continue to lead Illinois to what should be a berth back in the top 25 sooner rather than later. Cockburn has posted consecutive 20+ point double-doubles while Plummer has scored 20+ in 7 of the last 8 games. The Fighting Illini are a top 25 scoring team (81.2 ppg) but Minnesota likes to slow things down a bit under 1st year head coach Ben Johnson.
Illinois has found their offense against Minnesota last season, notching a 92-65 and 94-63 series sweep last year. Cockburn had 33/13 in the win at Champaign and followed that up with 22/6 at Williams Arena. Minnesota looks like they'll have a hard time matching up with the 7-foot, 285 pound Cockburn again this year.
Gophers Playing Well
Minnesota is 10-1 to start this season, impressive considering it's Johnson's first run as a head coach. The Golden Gophers have a big 81-76 victory at Mississippi State as +11.5 underdogs in early December and their signature win is going to Ann Arbor and beating Michigan 75-65 as +13.5 underdogs.
The Gophers are a +7 point underdog, but there's value in that line behind Minnesota's two headed monster of Jamison Battle and Payton Willis. Battle had 27 in the win over Michigan and Willis (16.3 ppg) has helped make up for the loss of Marcus Carr's transfer to Texas.
Free January 4th Illinois at Minnesota Betting Pick
This game is a little interesting to handicap considering both teams are playing on nearly a two week break. Illinois looked really good prior to the hiatus, but will the time off kill their momentum? The Fighting Illini also had a big outbreak of COVID, and may have numerous players taking the court in masks due to the NCAA's updated health and safety protocols.
Minnesota is 5-1 at Williams Arena on the season with their lone loss coming 75-67 against Michigan State as +7 point underdogs. While Cockburn is going to be a load on Tuesday night, the combo of Battle and Willis will keep Minnesota in this contest longer than expected.
Illinois 77 – Minnesota 71
Free Pick: Minnesota +7