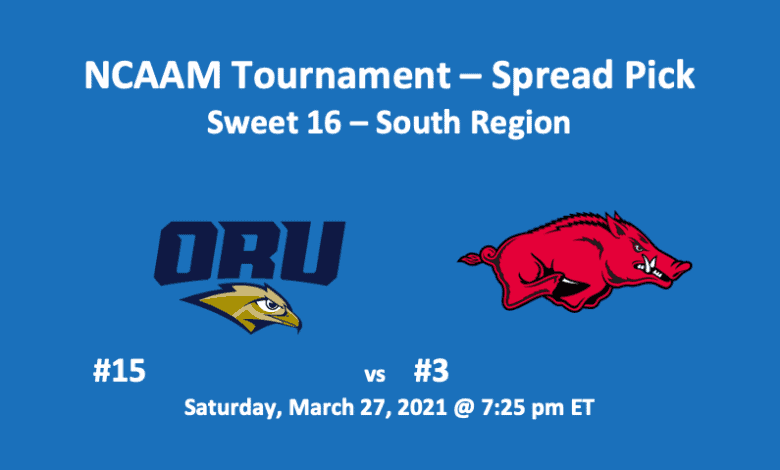 Our Oral Roberts vs Arkansas pick has the Razorbacks as the favorite. The best point spread for Arkansas is -11.0 (-110). As far as the underdog Golden Eagles are concerned, you'll find them at +11.5 (-113). Oral Roberts comes to this 2021 NCAAM Tournament Sweet 16 South Region contest by beating the #2 Ohio State Buckeyes 75-72 in OT in Round One and then by taking down the #7 Florida Gators 81-78. In Round One of March Madness, the Arkansas Razorbacks easily beat the #14 Colgate Raiders 85-68. In Round Two, the Razorbacks met the #6 Texas Tech Red Raiders, beating them 68-66.
The Golden Eagles and Razorbacks will meet on Saturday, March 27 at 7:25 pm ET. The game will be held at Bankers Life Fieldhouse in Indianapolis, IN. Also, see our other South Region Sweet 16 pick for Saturday, as the #5 Villanova Wildcats take on the #1 Baylor Bears at 5:15 pm ET. That game will be played at Hinkle Fieldhouse in Indianapolis, IN
Oral Roberts vs Arkansas Pick – Stats
The Golden Eagles have been one of the biggest surprises in the tournament. In terms of stats, Oral Roberts is averaging 81.5 PPG and 34.7 RPG while hitting 45.0% of their shots. The Razorbacks are recording 82.0 PPG and 39.7 RPG, while connecting on 45.3% of their field goal attempts. The Razorbacks hold an advantage in rebounds (+5.0) and they are also better on points allowed, 67.0 – 75.0 PPG. In addition, Arkansas is better on steals (8.0-6.7) and blocks (5.0-3.8). The Golden Eagles soar above the Razorbacks in three-pointers (39.0% to 33.9%) and free-throws (82.4% to 73.7%).
Key Players
The Golden Eagles are led by Max Abmas in the backcourt and Kevin Obanor in the paint. Abmas is a solid playmaker and shooter, averaging 3.8 APG and 24.5 PPG. He shooting 47.9% from the floor and 43.1% from downtown. Obanor, a 50% field goal and 47% three-point shooter, is averaging 19.0 PPG and 9.6 RPG. Forward DeShang Weaver adds 6.2 PPG, while guard Kareem Thompson is good for 8.6.
The Razorbacks come loaded with scorers, including three guards, Moses Moody, JD Notae, and Jalen Tate. Moody leads the 'Backs with 17.1 PPG. In addition, he bringing down 5.8 RPG. Notae is putting up 13.1 PPG, while Tate is good for 10.5 PPG, as well as 3.8 APG and 3.8 RPG. Forward Justin Smith, a 55.2% field-goal shooter, is averaging 13.9 PPG and 7.1 RPG.
Oral Roberts vs Arkansas Pick – Final Thoughts
Our Oral Roberts vs Arkansas pick observes that this could be a closer game than one might expect. The Golden Eagles have managed to outgun and play neck and neck with two fine NCAA teams. Plus, they beat both. We think that they will keep pace with the Razorbacks. That's despite Arkansas' fine D. We're taking the Oral Roberts Golden Eagles at +11.5 (-113).
#15 Oral Roberts Golden Eagles vs #3 Arkansas Razorbacks
ral Roberts Golden Eagles at +11.5 (-113)