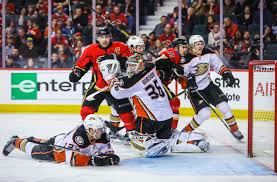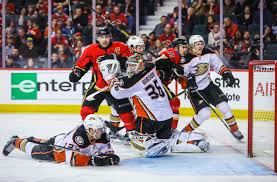 The eighth and final series of round one of this year's Stanley Cup Playoffs starts tonight, April 13 at 10:30 p.m. That is when the puck will be dropped for the Calgary Flames (45-33-4) and Anaheim Ducks (46-23-13). The Flames finished a the first wild card in the West with 94 points while the Ducks were first in the Pacific with 105 points. Our Calgary plays Anaheim 2017 Stanley Cup fee pick offers insights into what should be a highly contentious series. Anaheim is heavily favored having taken the regular season series 4-1.
Calgary Flames Keys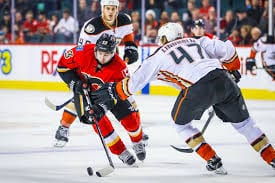 The Flames come into this game with mediocre team stats. They are 16th in average goals scored per game and 14th in average goals allowed per game. Both of those numbers are 2.7. On the penalty kill, the Flames are 81.6%, which places them 12th in the league. The power play isn't much better for Calgary as they are at 20.2, giving them 12th place.
Center Sean Monahan tops all scorers on the team with 27 goals, while the big assist guy is LW Johnny Gaudreau with 43. This is a team with quite a few players on the negative side when it comes to plus/minus. Defenseman Mark Giordano, who has eight power play goals and eight power play assists, tops all Flame players at +22. Center Mikael Backlund comes in with 53 points of which 22 are scores.
Anaheim Ducks Keys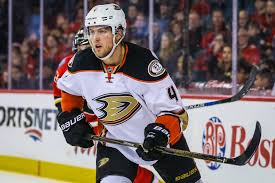 The odd thing about the Ducks is they don't score much. In fact, they score less than the Flames. Anaheim is averaging 2.7 GPG, which looks the same as Calgary. But if you go to the right of the decimal point a bit more, you'll find that the Ducks score a fraction less. They are, in fact, 18th in the NHL in goals scored. The team's power play, which is successful 18.7% of the time, is 17th. That's also not as good as the Flames. But Anaheim can play D. They are third in goals against, allowing 2.4 per game and fourth on the penalty kill at 84.7%.
The Ducks may not have any guys who are plus-20 or better, but they have very few players in the minus column. D-man Josh Manson is Anaheim's top guy on the plus side at +14. Look for centers Rickard Rakell, Ryan Getzlaf and Ryan Kesler to be on the scoring hunt. Rakel is the leading goal scorer with 33, while Kesselt has put the puck in the net 22 times. Getzlaf leads the Ducks in points with 73. Of which 58 are assists. RW Corey Perry leads the team in power play assists with 15. There are seven players on this team that have five of more power play goals.
Goaltending Edge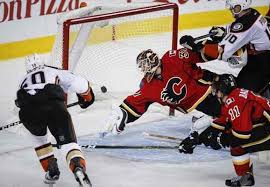 Goaltending for both teams is a bit shaky. Brian Elliot (26-18-3) had a rough start to the season but has improved with time. He's allowed an average of 2.55 goals per game and has a save rate of .910. For Anaheim, Josh Gibson (25-16-9), who was injured for part of the season, will be looking for consistency. He's saving .924 of the shots he sees and has a GAA of 2.22.
Calgary Plays Anaheim 2017 Stanley Cup Fee Pick
We think that Gibson will play well and the Duck D will be the steadiest part of this series. There will be fights and plenty of them as there's no love lost between these teams. Our Calgary plays Anaheim 2017 Stanley Cup fee pick takes the Ducks in six games.
Calgary Plays Anaheim 2017 Stanley Cup Fee Pick: Anaheim in six