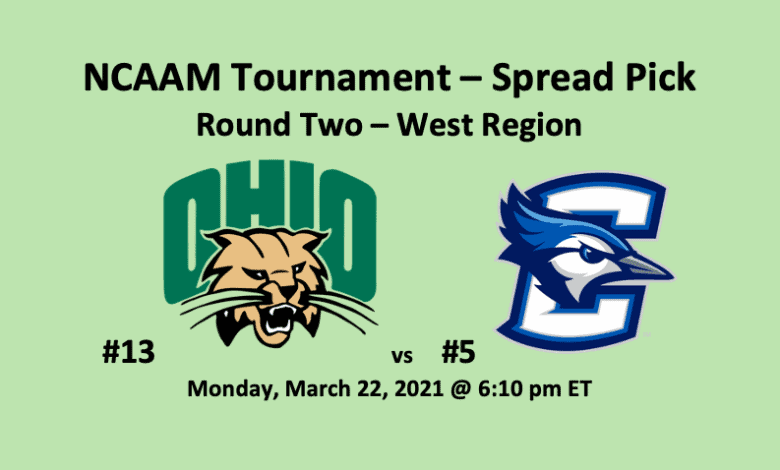 This Ohio vs Creighton pick notes that the Bobcats are the underdog. This 2021 NCAAM Tournament West Region Round Two game has the point spread for the Ohio Bobcats at +6.5 (-115). The Creighton Bluejays, the favored team, can be found at -6.0 (-104). The Bobcats come to Round Two after beating the #4 Virginia Cavaliers 62-58 in Round One. Ohio has won its last four games. The Creighton Bluejays, who've won four of their last five games, beat the #12 UC Santa Barbara Gauchos 63-63 in Round One. The Bobcats and Bluejays will meet on Monday March 22 at 6:10 pm ET. The game will take place at Hinkle Fieldhouse in Indianapolis, IN. Make sure you check out all of our March Madness picks, as we've got every game covered including Abilene Christian and UCLA.
Ohio vs Creighton Pick – Stats
One worry for the Bluejays is their free-throw percentage. Creighton is shooting 64.1% from the charity stripe. The Bobcats are good on 70.1% of their attempts. They're also hitting 48.9% of their field goals. Creighton is good on 47.8% of their shots from the field. The Bobcats top the Bluejays in assists (17.9 to 15.9) and points per game (80.9 to 77.0). On the other hand, Creighton is a bit better on rebounds (36.1 to 34.8), steals (7.1 to 6.8), and blocks (3.5 to 2.1).
Key Players
Five Ohio players are double-digit scorers. Guard Jason Preston is averaging 16.3 PPG while completing 53.2% of his field-goal attempts. He's also snaring 7.2 RPG and making 7.3 APG. He is a total player. Guard Lunden McDay is averaging 10.2 PPG. Around the rim, three players,
Dwight Wilson III, Ben Vander Plas, and Ben Roderick, are contributing in a major way. Wilson is good for 14.6 PPG and 7.5 RPG. Plas offers 13.0 PPG, 5.6 RPG, and 3.8 APG. Roderick is averaging 12.5 PPG.
The Bluejays also bring five double-digit scorers to this game. Guards Marcus Zegarowski and Denzel Mahoney are averaging 15.6 and 12.5 PPG respectively. Together, they are grabbing 7.8 RPG. Zegarowski is dishing off 4.5 APG. Also, in the backcourt, Mitch Ballock is putting up 10.1 PPG. In front, Damien Jefferson provides 12.0 PPG and 5.4 RPG while Christian Bishop is notching 11.0 PPG and 6.1 RPG.
Ohio vs Creighton Pick – Final Thoughts
Our Ohio vs Creighton pick anticipates this game as coming down to a shot or two. Both teams can score, however, the Bobcats have the potential to really give the Bluejays a major run for their money. We like the Ohio Bobcats at +6.5 (-115).
#13 Ohio Bobcats vs #5 Creighton Bluejays
Ohio Bobcats at +6.5 (-115)