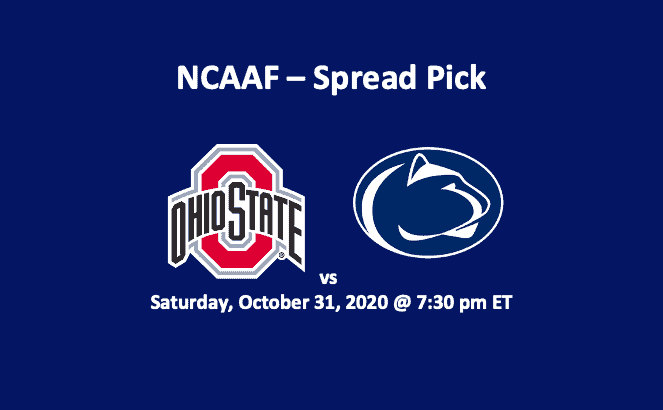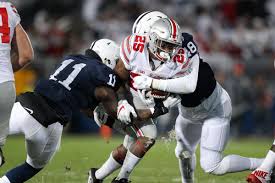 Our Ohio State vs Penn State pick for Saturday, October 31, 2020 has the Buckeyes at -10.0. This is a huge Big 10 matchup. Although the college football season is in week nine, this is only the second week of play for the conference. OSU is 1-0 having rolled over Nebraska 52-17. They look to be a powerhouse. But, then again, that game versus the Cornhuskers was just one game. In week eight, the Nittany Lions, who are now 0-1, lost in OT to the Indiana Hoosiers 36-35. This game, which kicks off at 7:30 pm ET, will be played at Beaver Stadium in University Park, PA.
Ohio State vs Penn State Pick – Stats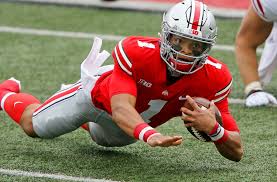 Both teams have solid offenses. In the first game of this shortened season, OSU and PSU both had close to 500 yards in offense. For the Buckeyes, it was the pass attack that provided a majority of the odds, while the Nittany Lions relied on the run more. On the other side of the ball, Ohio State did well in stopping Nebraska's pass attack, but they could not quell the Cornhusker's ground game. Overall, Penn State proved to be able to limit the Hoosiers in the air and on the ground.
Buckeyes vs Nittany Lions Spread Pick – Key Players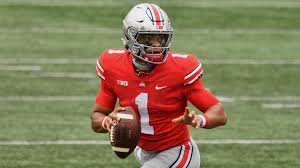 Ohio State vs Penn State pick observes that Buckeye QB Justin Fields was exceptionally accurate, completing 95.2% of his passes. Fields, who threw 21 passes, tossed two TD balls and no picks. His two favorite targets look to be wideouts Garrett Wilson and Chris Olave who had seven and six receptions respectively. Fields led the team in rushing with 54 yards on 15 carries. He crossed the goal line once. RBs Master Teague III and Trey Sermon had 48 and 41 yards respectively with Sermon scoring twice. For OSU, the linebacking unit will look to control the game. In their first contest, linebackers Pete Werner, Baron Browning, and Tuf Borland combined for a total of 17 tackles.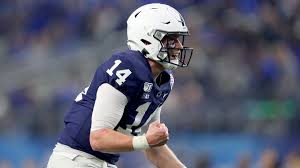 QB Sean Clifford runs the PSU offense. In his first game of the season, Clifford completed 24 of 35 passes (68.6%) and tossed two TD passes and two INTs. He was also the leading rusher, accumulating 119 yards on 17 carries for a 7.0 average and one score. RB Devyn Ford, who has 20 rushes for 69 yards, averaged 3.5 YPA and scored one touchdown. At this point, PSU's top two receivers are wide out Jahan Dotson (4 REC, 23.5 AVG, 1 TD) and tight end Pat Freiermuth (7 REC, 8.6 AVG, 1 TD). Clifford will be attempting to connect with them in this game. On defense, DE Shaka Toney and LB Ellis Brooks could be big in this contest. Last week, Toney recorded seven tackles and two sacks while Brooks posted five bring downs and one forced fumble.
Ohio State vs Penn State Pick – Final Word
Our Ohio State vs Penn State pick notes that these two teams last met on November 23, 2019. In that game, OSU beat PSU 28-17. With a shortened season and just one game played thus far, this is not the easiest pick to make. However, we do expect an Ohio State victory and a sizeable one. We're taking the OSU Buckeyes at -10.5 (-105).
We've got a great NFL pick for Week 8. See our New England Patriots vs Buffalo Bills prediction. We offer a full preview of that AFC East game.
#3 Ohio State Buckeyes vs #18 Penn State Nittany Lions Summary
Ohio State Buckeyes -10.0 (-105)