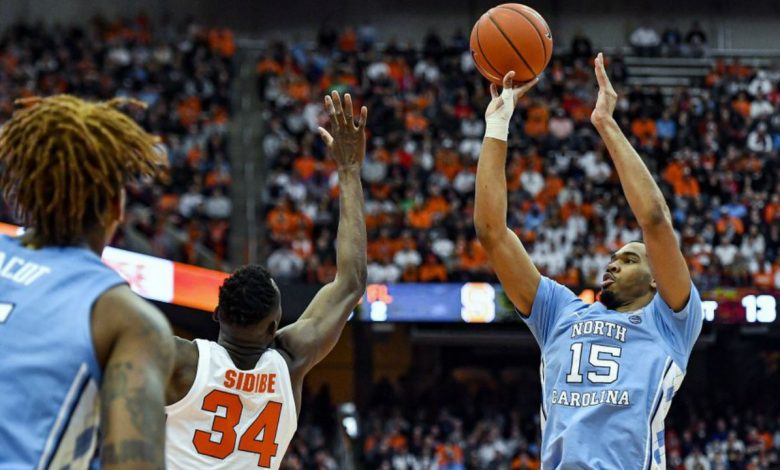 The March 11th North Carolina vs Syracuse betting prediction is an interesting one. It's not often you see a #14 seed playing on 0 days rest favored (UNC -2.5) but that is the enigma that is the Tar Heels this season. UNC looked great in walloping Virginia Tech on Tuesday but can they keep the momentum going?
The Orange are the more rested team here, but there's also a 79-92 loss to North Carolina 12 days ago looming very large before Wednesday night's game. The game is also in Greensboro Coliseum, less than an hour from the Chapel Hill campus. How 'neutral' is this game?
North Carolina Might Not Be Tired at All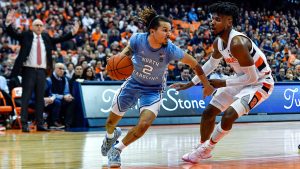 The Tar Heels will be playing on the back to back in the March 11th North Carolina vs. Syracuse betting pick. They didn't travel much to get to this tournament though and Tuesday night's win over Virginia Tech wasn't exactly exhausting as UNC got the 78-56 win as -4.5 favorites.
Garrison Brooks was great on Tuesday vs. the Hokies with 20 points. UNC got the big win despite Cole Anthony only scoring 10 and perhaps more importantly every other North Carolina player logged 30 minutes or less. The 78 points was another great offensive outing for the Tar Heels who have poured in at least 76 in five straight games – four of which were wins.
North Carolina also has two 92+ points outings over that stretch, one of which somewhat surprisingly came against these Orange on February 29th. Even worse for Jim Boeheim and company was that the game was in the Carrier Dome and North Carolina was a +5.5 underdog en route to a 92-79 outright win. The victory was the 2nd straight year the Tar Heels broke 90+ vs. the 'Cuse and was UNC's 9th straight win in the series.
Is Syracuse Up Against It on Wednesday?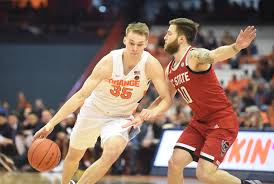 To say that the Orange laid an egg in their last meeting with North Carolina would be a massive understatement.That February 29th game was Senior Night, John Wallace's jersey was getting retired, there were prominent alumni at the game, and it was the last contest at the Carrier Dome as it closes for renovations. Syracuse still fell down by 16 twice, and failed to make up the deficit the second time around.
Does Syracuse just have a complex when it comes to beating the 'Heels? In their only regular season meeting this year Brooks had 26 for UNC, Anthony added 25, and even Christian Keeling had 18 off the bench. Buddy Boeheim had 22 for 'Cuse in that game but he was just 2-7 from beyond the arc. Poor accuracy beyond the arc is a them for this team as they rank 12th in the ACC with a 30.8 three point shooting percentage.
March 11th North Carolina vs Syracuse Betting Prediction
Syracuse may have lost 2 of their last 3, but one of those was an OT game vs. Miami that 1st team All-ACC selection Elijah Hughes missed the 2nd half of with an injury. The big defeat to North Carolina you can chalk up to the emotions of the night.
That being said, UNC has momentum right now, winning 4 of their last 5 with a loss at Duke in the regular season finale the only blemish. North Carolina has a great dynamic duo working right now and the Orange don't have the long range shooting to come back if they get down.
Pick: North Carolina Tar Heels -2.5