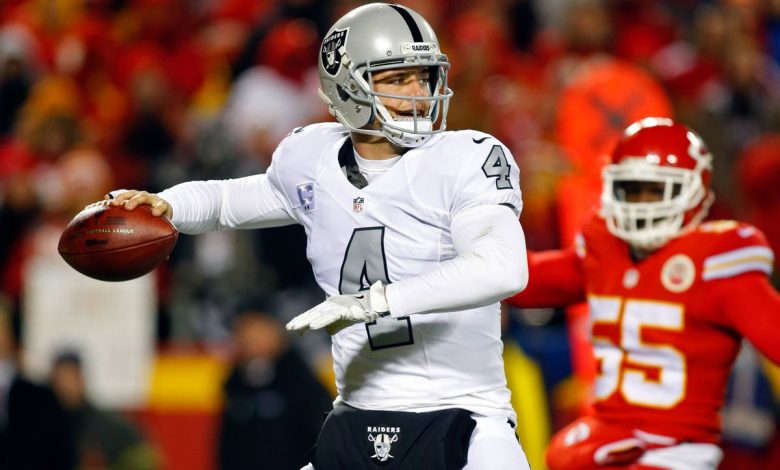 The AFC West is up for grabs, and the two top teams in the division are duking is out at Arrowhead on Sunday afternoon. The Kansas City Chiefs (7-4) are set to host the Oakland Raiders (6-5) in one of the premier matchups of Week 13.
Here is a preview for Sunday's game, along with odds and a free pick.
By The Numbers
We'll start with the Raiders, who come in off of a bad 34-3 loss to the Jets after ripping off three straight wins. Led by quarterback Derek Carr, Oakland is 14th in total yards with 356.8 and 22nd in points with 20.7. The Raiders have been fairly balanced between their passing and running attacks and rank as the fourth-best team in the league on third down.
While it has had a couple of rookie standouts on defense, Oakland still ranks among the bottom tier in total yards with 371.1 (25th) and points with 25.8 (24th). The Raiders are also near the bottom of the NFL in passing yards allowed but rank a respectable 13th in rushing yards allowed with 104.3.
The Chiefs are once again an offensive juggernaut but are looking to string together back-to-back wins for the first time since late September. Kansas City Is third in total yards per game with 396.1 and fourth in points with 28.0. Unlike Oakland, the Chiefs aren't balanced on offense, ranking second in passing yards but 22nd in rushing.
On defense, Kansas City has given up a lot of yards per game (375.7, 26th in NFL) and ranks 19th with 23.3 points allowed. The Chiefs have been much better against the pass than the run, ranking 14th with 232.6 passing yards allowed as opposed to 143.1 rushing yards allowed, which ranks 30th.
Who To Watch
The Chiefs are a team that lives and dies by their QB. Patrick Mahomes has recovered from his dislocated knee and is putting together another outstanding season, throwing for 2,808 yards and 19 touchdowns to just two interceptions. Mahomes is now going against a team he torched for 443 yards and four touchdowns back in Week 2.
With no Damien Williams to run the ball and speedy wideout Tyreek Hill recovered from a hamstring injury, expect Mahomes to throw plenty on Sunday and have another big game.
While Kansas City's offense may force Derek Carr and the Raiders to throw, running back Josh Jacobs will still be a big part of Oakland's scoring attack. The rookie is well on his way to being in the Offensive Rookie of the Year discussion, rushing for 957 yards and seven touchdowns.
He and tight end Darren Waller have been the standouts on offense for the Raiders, and each of them will have to have great games to beat the Chiefs.
Injury Report
Oakland's injury report is fairly light, with receiver Hunter Renfrow out several weeks with a rib injury. Only left tackle Trent Brown is questionable, while Jacobs and defensive back Lamarcus Joyner should be good to go after being limited in practice all this week.
Kansas City's injury report is even lighter. Only Williams is listed as out, with no players listed as questionable. Mahomes and Hill were among those on the injury report, but both practiced in full all week and carry no injury designation heading into Sunday's game.
Odds And Pick
As expected, the Chiefs are a big favorite, listed at -11.0. Even though Kansas City has struggled to win back-to-back games, I think that changes today. The Chiefs are an elite passing team that is healthy, at home, rested off of a bye week, and going against one of the league's worst pass defenses. Expect Mahomes to go off and for the Chiefs to win comfortably, covering the -11.0 spread.