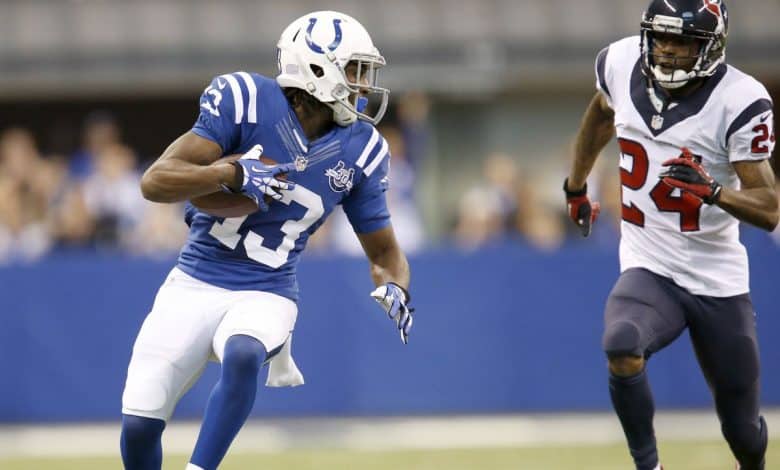 It's another tough, physical week for Houston heading into the Texans at Colts pick after they were bruised and battered 36-7 in Chicago last week as -1 favorites. The Texans run defense is all but non-existent, which isn't good with another away tilt in Indianapolis, a team that churned out a 200+ yard rush game last week in a 44-27 win in Vegas as -2.5 road favorites.
These teams should be very familiar with each other after the Colts notched a 26-20 win in Houston two weeks ago as -3.5 favorites. That was a home game for the Texans though, and they did have a couple extra days of rest after beating Detroit on Thanksgiving the week prior. Do things get uglier in Sunday's rematch? The Colts are -7.5 favorites at Lucas Oil Field.
Texans Beat Up On Last Week
What's really bad about Houston's 36-7 loss last week is that they were embarrassed by a Bears team that had lost six straight games prior. The Texans managed just 155 net yards passing thanks to 7 Chicago sacks and Houston's defense gave up an 80-yard run to David Montgomery on the Bears' first offensive play. Mitch Trubisky also had a 3TD day to get Chicago back in the win column.
Things aren't going to get easier in the Texans at Colts pick – at all. Indy is 4-2 at home on the season, and is coming off a 40+ point output in which Jonathan Taylor ran for 150 yards and 2 TD on just 20 carries vs. the Raiders. That's not a good stat – for Houston – as their run defense is 2nd worst in the NFL.
Of course you always have a chance to at least cover the +7.5 number with Deshaun Watson at quarterback. Aside from the pressure, he didn't play bad vs. Chicago going 21/30 for 219 and a TD. The Colts defense is pretty good (#6 total yards), but Watson was 26/38 for 341 yards in their meeting two weeks ago. He also didn't throw a TD pass for the 1st time this season and tossed his first INT in the last 7 games in that first meeting.
Colts Offense Looks Too Diverse Here
Houston has the 2nd worst total defense in the NFL and also forces the fewest takeaways. The Colts 'only' managed a 26-20 win in Houston two weeks ago, but they also completely shut out the Texans in the 2nd half.
Philip Rivers was 27/35 for 285 yards and 2 TD in the first game with the Texans and managed 244 yards and 2 TD on just 19 completions last week vs. the Raiders. Indianapolis will be able to run the ball at will behind their powering offensive line that allowed Taylor to have his best game as a pro last week. The real x-factor in this game is going to be T.Y. Hilton though, as he had 110 yards in the first game vs. Houston, and 2 TD last week which gives him a score in three straight.
Free Texans at Colts Pick
This seems like a no-brainer play on Indy, but just 55% of the betting public agree. The Texans' defense is just so bad though, and comparatively the Colts defense can go into shut down mode in allowing 0, 3, and 0 second half points in games against the Titans, Packers, and Houston over the last five weeks. The Colts get four quarters to score, their opponents only get two.
Colts 31 – Texans 20
Free Pick: Colts -7.5